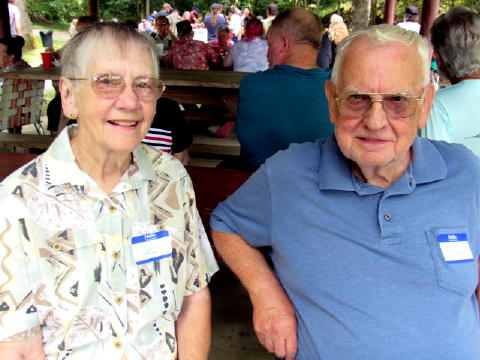 Peggy Whytsell Stemple and husband Marvin Stemple
carry on the family event with West Fork Memories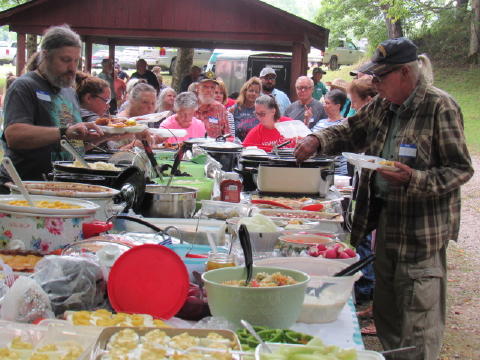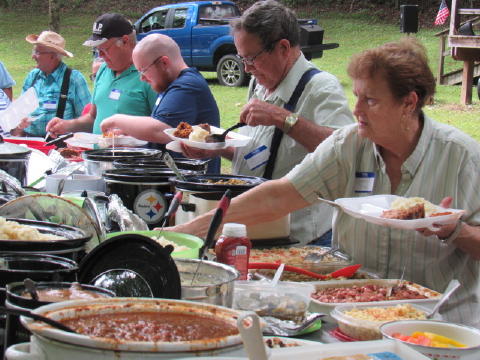 A spread of food that makes your jaw drop
By Bob Weaver
The Whytsell Reunion was held on August 1 at the Whytsell Park along the West Fork of the Little Kanawha (Rocksdale-Richardson), the park constructed as a 4-H project by Randall and Blanche Whytsell and their daughter Peggy (Stemple) in the 1950s.
It has been a gathering place for the Whytsell clan, their extended families and neighbors, the reunion being held for well over forty years.
After being canceled in 2020 because of COVID-19, this year's event was a shining break from the world-wide pandemic, returning to the simple pleasures of life, meeting, greeting, story-telling and a humongous spread of country food.
The kids playing in the creek and taking a drink of water from the Hart spring.
Family reunions have been fading from country life, so for folks to enjoy its pleasures once again should elicit a few moments of gratitude.
The albums of photos of those attending over the years, hundreds of them passing into the beyond, is yet another reminder of precious moments.
PHOTO ALBUM OF REUNION FOLKS CONNECTED TO THE VALLEY