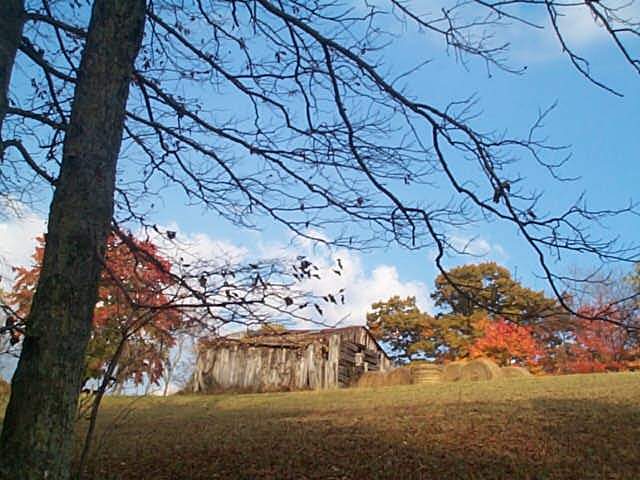 Autumn on the Joker Ridge near Hur

"Our village stands on the edge of memory, soon to be forgotten by most. Those of us with roots in its clay hold cautiously to the place like some cling to diamonds and pearls. There are powerful memories of a time when people were full of gratitude for even the smallest of things, life was hard but simple and most every neighbor was treasured."

"Our families thrust themselves deep into these steep mountains and craggy hollows to learn the toil of the soil, breathing sustenance and survival.

Then there is the spiritual connection with the earth and creation - a seldom interrupted peace, safe and free."

"Full of spirit, character and flaw, rising up and falling down, their lives are a special gift to us. While old timers may treasure these stories, we really want to pass them on to newcomers who have chosen to live in Calhoun County, those yet to be born and the curious seekers who visit us on the Internet. Maybe we will touch the spirit of one of you as we launch into the new millennium, a shadowy image in a troublesome and distant world." - Bob Weaver, Editor (1996)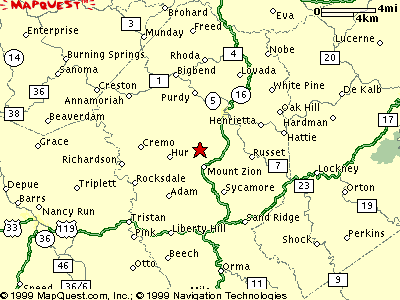 A QUESTIONABLE PUBLICATION FROM WEST VIRGINIA
EDITOR - Bob Weaver
ASSOCIATE EDITORS - Dianne Weaver and Norma Knotts Shaffer
TECHNICAL CONSULTANTS - Rich Kurnik and Tim Connolly
304-354-6183
7697 Pine Creek Rd. - Mt. Zion WV 26151
E-MAIL bob@hurherald.com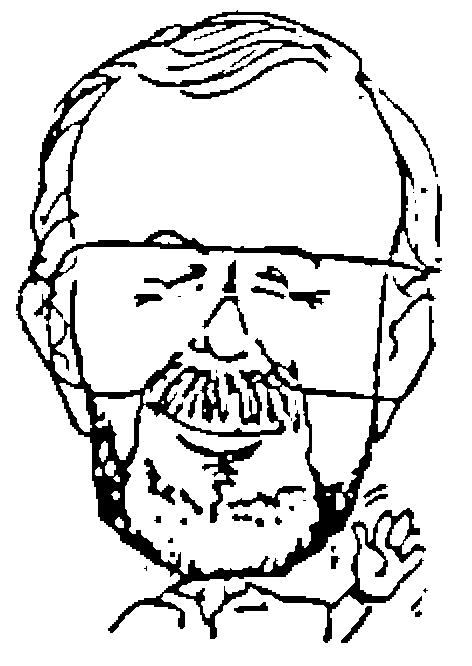 A QUESTIONABLE PUBLICATION

Editor Bob Weaver returned to his ancestral Village of Hur in 1995 and started The Hur Herald's printed version in 1996 "for the amusement of my neighbors," often printing and handing out 2000 copies. Because of expense, The Herald was placed on the Internet July 1, 1999 and now has over 2,500,000 million visitors a year, and is one of the most read Internet newspapers in West Virginia.

Weaver is a prolific writer ("Most of the time I hack it out, but once in a while I write."), avid historian, collector, naturalist and photographer.

In the archives of The Herald you will read about Hunkerin' Ed Cooper, who was never known to sit in a chair, or be fascinated by a heavenly visit by "The Ghost of Reason Kerby," who comes out on half-moon nights in Salvation Hollow to clear up earthly questions put to him by little Billy Braveheart, Hur's most innocent citizen who seeks to understand things.

You could feel the pang of democracy at work when Hur's governing body, the Council for Social Improvement and Upward Mobility, rules on public matters.

The Herald has local news, sometimes the reporting of controversial subjects, and a focus on the people and history of the area.

Weaver has said he hopes readers across America will develop a perception of what life is about in the hills of Central West Virginia, past and present.

He has worked variously on articles, books and stories with their origin in Calhoun County, including the "Tales of Bear Fork."

He says the Herald's large readership comes as a surprise.

The original Herald was described as "A cheap, often unedited and sometimes misspelled epistle with shaky financial backing and poorly defined goals."

It has been slightly refined, but not much.

The Herald has received lots of media attention in newspapers and magazines for its grassroots reporting and connection to a place and its people.

"Finding time to fit has been a challenge, putting it together about every day since 1999." he said.

"Reporting news about our county has not always made friends, but at the same time, I really believe it has been a worthwhile effort."

Weaver, who at one time worked as a radio broadcaster and reporter, helped put Spencer's radio station on-the-air in the early 1960s.

He spent 18 years as a volunteer fireman and taught some of WV's first EMT courses, having been 'on the ground' providing ambulance service in Roane County in what he describes as the 'dark ages,' responding to thousands of calls.

"It was in the 60s I learned the face of poverty," he said.

He was a member of the West Virginia National Guard.

Weaver was a three-term member of the Calhoun Commission. He is a member of the Nature Conservancy, the Sierra Club, Coal River Mountain Watch, National Audubon Society, and numerous other social justice groups.

He is a former funeral director and hospital administrator, and founder of two treatment centers for alcoholism and drug addiction. He is past president of the West Virginia Association of Alcoholism and Drug Abuse Counselors.

Weaver said his greatest achievement has been a personal recovery from alcoholism since 1979, which was his motivation to shift his life work toward helping alcoholics and the drug addicted.

He and his wife Dianne have been involved for several years with Challenge WV, a grassroots group dedicated to keeping education in community schools and preserving rural community life.

He is the son of the late Gifford and Myrtle McCoy Weaver of Hur, his mother an employee of Kellwood, Spencer's now defunct sweater factory, and his father a retired employee of the old State Road Commission.

He is married to Ellen Dianne Starcher Weaver, one of the hundred's of Calhoun Starcher's. He has three children, Eric Weaver of Alaska, Tracey Weaver Keaton of Spencer and Jon Weaver of Hur.

"I proudly claim relationship to at least half of Calhoun's families of origin," he said.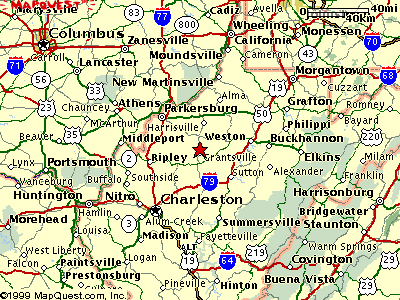 'NARY A STOPLIGHT IN SUNNY CAL

Calhoun (population now about 7,000) is off the beaten path in the hills of central West Virginia, with nary a stop light, traffic jams, or fast food outlets.

Calhoun, with a population about 7,300, is home of the erstwhile Village of Hur, population about 25. It is typical of dozens of villages which have faded in the backwoods county. While most would not consider Calhoun hills to be mountains (Mule Knob the highest at 1510'), they are extremely steep, craggy, rugged and beautiful.

Calhoun citizens reside in a great forest, the county being among the most forested in WV.

The hills are, in many ways a curse and a blessing, isolating the citizens from the greater world and protecting residents from some of the problems that haunt much of America.

Calhoun has been a county since 1856, with its economy during the first hundred years being primarily agricultural with an infusion of oil and gas development.

It has less than 300 square miles. The children have been forced to leave for gainful employment for nearly fifty years, although some Calhouners have been able to create their own economy.

They are strong survivors who cling to values that many consider backward, a sense of being connected to the earth, family and church.

Grantsville, the county seat and only municipality, has a population of 500, but many people in the county shop in Spencer, now home to Wal-Mart.

Calhoun is 45 miles from Parkersburg and about 75 miles from Charleston, both shopping and business centers.

Roads around and out of the county still follow those paths of least resistance, some call them "cow paths."

The hills and a lack of a modern highway have slowed progress, created a slow moving lifestyle and stifled development and infrastructure.

A "modern road" that would offer access to and from the county has been on the drawing board for about 40 years, and is no closer to being built now that it was in the 60s.

Despite programs and plans to develop infrastructure in rural America since the 60's by the Appalachian Regional Commission and other "Big Brother" programs, the government's foreign aid has gone to other deserving, more urban areas of America, or abroad or to fund wars.

Government continues to spend millions on job training in WV, for jobs that do not exist.

The county has one of the lowest incomes of the state's 55 counties and is on the list of the one hundred poorest counties in America, but as a resident once said "We are not fazed by recessions and depressions," but with the current national economic collapse, that may no longer be true.

Nonetheless, Calhoun is a safe and beautiful place to live with hospitable people.

Since the terrorist attack on September 11, 2001, it is beginning to look much better for people in the bigger world.

We are very grateful to our Hur Herald readers around America and here at home, although we deny responsibility for the decline of western civilization.

The Herald seeks to report the happenings of the county, both good and bad, and to honor those stalwart citizens who have given us our place on the earth.

We do not acccept responsibility for the anger expressed by individuals for the publishing of names from magistrate and court reports, using an old statement by long-gone Roane County publisher Henry Woodyard - "We didn't do it, we just report it."

We are always delighted to hear your comments.

COPYRIGHT Hur Herald Publishing, 1999, 2000, 2001, 2002, 2003, 2004, 2005, 2006, 2007, 2008, 2009, 2010, 2011, 2012, 2013, 2014, 2015. 2016, 2017, 2018. See disclaimer for reprinting material or write for permission.