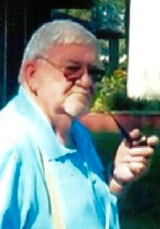 Daniel Lee "Danny" Miller, Sr., 75, of Spencer, West Virginia formerly of Walton, West Virginia died October 24, 2015 at the Camden-Clark Memorial Hospital in Parkersburg, West Virginia.

He was born September 5, 1940 in Plymouth, West Virginia a son of the late Joseph C. Miller, Sr. and Georgia Bell Cook Miller.

Danny worked as a mechanic for over 33 years for Heeter Construction and helped them build dams across the United States. Earlier he worked pumping wells for Bill Heeter and Pennzoil. He enjoyed playing dominoes and fishing, was saved four years ago and was a member of the Spencer Tabernacle.

He is survived by his wife, Edie Marie Starcher Miller; two daughters, Teresa Lynn Miller and Pamela Sue Moore, both of Walton, West Virginia; two sons, Daniel Lee Miller, Jr. of St. Albans, West Virginia and Gregory Wayne Miller of Walton; one sister, Becky Hawley of Poca, West Virginia; three brothers, John "Sonny" Miller of Hurricane, West Virginia, James "Jim" Miller of Spencer and Gary Miller of Eleanor, West Virginia; seven grandchildren, Meagan Dawn Golding, Justin Keith Miller, Melissa Danielle Sloan, Travis Lee Miller, Bobbi Allyn Miller, Barry Nathan Miller and Harrison David Miller; and three great-grandchildren.

In addition to his parents, he was preceded in death by his first wife, Carolyn S. Greathouse Miller; five sisters, Patty Broyles, JoAnn Hamon, Jane Siders, and Linda Murray and Sue Wilson; and a brother, Joseph Miller, Jr.

Services will be held at 1:00pm Tuesday, October 27, 2015 at the TAYLOR-VANDALE FUNERAL HOME, Spencer, with Rev. Loren Price officiating. Burial will be in the Droddy-Canterbury Cemetery, Walton. Visiting hours are from 6:00 to 8:00pm Monday at the funeral home.