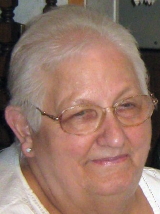 Dolores June (Milbee) Yoak, 80, of Grantsville, WV passed away Thursday, October 01, 2015 at her residence.

She was born April 3, 1935 in Red House, WV. She was the daughter of Edward and Elizabeth Young Milbee of Poca, WV.

She graduated from Poca High School. She worked at Rubber Fabricators and retired from B.F. Goodrich in Grantsville. Dolores was a devoted wife, mother, grandmother and great-grandmother. She loved her family and spending time with them very much. She loved to crochet, quilt, and read books. She was well-known for her handmade crafts and loved sharing them with others.

She is survived by her husband of 60 years, Robert S. Yoak; daughter Mary Ann Parsons (Randy) of Millstone, WV; Edward L. Yoak (Donna) of Grantsville, WV; and daughter Tina Kaye Yoak of Grantsville; grandchildren, Paul M. Parsons (Lori) of Grantsville, WV; Robby Parsons (Stephanie) of Elizabeth, WV; and Carissa and Jordan Yoak of Grantsville, WV; great-grandchildren, Adam and Kaylin Parsons of Grantsville, WV; and Garrett, Summer, and Chase Parsons of Elizabeth, WV; sisters, Mary Sue Erwin of Poca, WV; and Virginia Ann Milbee of Nitro, WV; and brother, Joe Milbee of Poca, WV; sisters-in law, Grace Richards; Edna Robinson; Leona Yoak; Madeline Yoak all of Grantsville, WV; Hazel (Ray) Tingler of Big Springs; and Evadeen Kesler of Huntington, WV; and several nieces and nephews.

In addition to her parents, she was preceded in death by sisters, Edna Tucker, Alma Sigman, and Betty Thomas; brothers, Charles (Chub) Milbee; Lawrence (Jolly) Milbee; Maxwell (Mac) Milbee; Bob Milbee; Hubert (Goud) Milbee; Jim Milbee; and infant baby brother, Ray Milbee; and nieces and nephews.

A memorial service will be held Saturday, October 10, 2015 at 2:00 p.m. at Stump Funeral Home, Grantsville, with Rev. Carroll McCauley and Rev. Rick Metheney officiating. Family will receive friends from noon until time of service

In lieu of flowers, the family requests that donations be made to a charity of your choice.