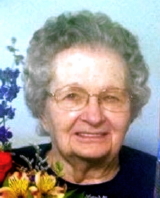 Betty Jo (Fulks) Metz, 84, of Orma, West Virginia, passed away Monday August 10, 2015 following a long illness.

She was a Christian and a member of Walnut Memorial Church. She was a 1949 graduate of Spencer High School. Along with her husband, she owned and operated Metz Grocery for many years and was postmaster of Orma Post Office until retirement.

Born in Calhoun Co. Sept. 25, 1930, she was the daughter of Joseph and Alice (Lamb) Fulks.

In addition to her parents, she was preceded in death by her husband, Willliam Thurl Metz; brother, Robert Fulks; and stepfather, John Arnold.

She is survived by her children, Joe Metz of Rock Cave, and Janet Metz of Clendenin; grandchildren Bryon Metz of Beaufort SC, Michael Lynch of Ovapa, Erin Metz of Asheville NC, and Melissa Cox of Charleston; five great and two step-great­grandchildren. She is also survived by three sisters, Glenna Perkins of Chloe, Emogene King of Cleveland OH and Nell Tiller of Streetsboro OH; and two brothers, Harold Fulks of Millstone, and Stanley Arnold of Hayes VA; and many nieces and nephews.

Funeral services will be held Aug. 13 at Stump Funeral Home in Arnoldsburg, at 1 p.m. to be held by Lester Tanner, pastor of Walnut Memorial Church.

Family and friends gathering from 11:00 a.m.until the funeral service at 1:00 p.m. Burial will follow at Minnora Cemetery.

The family expresses heartfelt appreciation to the staff of Roane General Hospital Skilled Nursing Unit for the loving care and respect they provided on a daily basis over the past year.