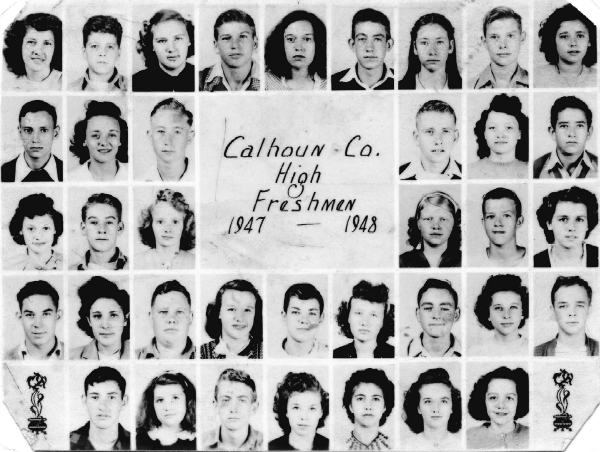 Calhoun High School Freshmen - 1947-1948
First Row, left to right: Miss Cross, Wilbur Parsons, Jr., Barbara McHenry (?), Earl Hartshorn, Aretta Nitz, Roger Stull, Dessell Poling, David Offutt, Margie Wagner: Second Row: Jean Kerby, _____ Cunningham, Jack Parsons, Bill Frame, Naomi Robinson, Glenn Vannoy; Third Row: Murdane (?) Richards, Jake Parsons, Betty Knotts, Naomi Marks, Bill Summers, Jean Yoak; Fourth Row: Dallas Maye (?), Ella Carpenter, Donald Leach, JoAnn Monroe, Bob Nitz, Virginia Taylor, Harry Newell, Irene McKown, Delmar Sears; Fifth Row: Ray McCoy, Wanda Stalnaker, Tom Barker, Margie Stump, Barbara Stalnaker, Virginia Johnson, Garnett Yoak.
(Photo Courtesy of Karen Parsons Skelding)
By James C. Haught
The picture of Calhoun High School Freshman Class 1947-48 flooded my mind with memories. This was part of my Grantsville Grade School fifth grade. I moved from Calhoun (Mt Zion) in 1944, leaving behind friends since the first grade.
My first memory was of Irene McKnown, my cousin. She lived on Spring Run and we were in the first grade for awhile in 1939. Her grandfather and my grandfather were brothers.
The first friend I ever had was Bill Summers. He lived near me on Mt Zion Ridge where we had moved from Millstone. Bill was a wonderful playmate. We had great adventures together. I moved about a mile further out Mt Zion Ridge and our friendship disappeared.
My new friendship was with Donald Leach. We loved to play in the gravel piles at the State Road Garage and were friends until I moved from Calhoun to Kanawha County.
Earl Hartshorn was another good friend at Grantsville Grade School. A lot of good memories, but both of us got a paddling from Miss Cox after she put us in two separate corners and we rolled marbles across the eraser tray.
Bill Frame lived on Phillips Run, the story teller in our class. One day Miss Cox sent us to cut a Christmas tree, but we went up Phillips Run and all the way home. She kept us in a from recess for the next week.
I remember Margie Stump. After high school she and I went to West Virginia University. She was a very pretty girl and very popular on campus and dated one of my fraternity brothers for awhile.
Virginia Lee Johnson was my favorite girl at Grantsville Grade School. I don't think she ever knew that.
Virginia Lee married Joe Riddle and they moved to California. One day I ran into her brother, George. He told me that Joe had died and that Virginia Lee seldom returned to Calhoun.
Many of the other students in the picture came from one of the many one room schools around Calhoun County.
There must have been one or two more freshmen classes at Calhoun High School in 1947-48. If anyone has those pictures, I would love for the Hur Herald to publish them.