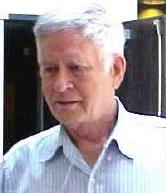 By Jack Cawthon
bbqrun@hotmail.com

Burvil called from Big Puf sobbing his heart out. I figured that once again at this joyous season that he either had been watching "It's a Wonderful Life," or it was deer season . I had warned him not to watch that sugary movie, which is a seasonal curse in which Jimmy Stewart portrays bankers who once extended loans, both good and bad, with a handshake, but now in harmony with the government's efforts to eliminate paper work require 10 or more pages, providing one's credit is sterling. (I feel showing of the movie to a West Virginia audience should be banned, as the state has one of the highest rates of diabetes in the nation.)

I needn't have worried: it was only deer season and Burvil needed my advice about what license stamp was required, as he admired my learning from attending college. ( I appreciated his careful wording as I never go beyond saying I "attended" college.)

I told him I was a poor choice for a reference as when I learned to read and write, perhaps optimistically putting too much emphasis on the latter, there were only 26 letters in the alphabet and that I thought that the Department of Natural Resources (DNR) had now utilized all of those and gone into the Russian Cyrillic system.

He insisted on reading some regulations to me anyway: "The RG stamp must be accompanied by a Class A and CS, A-L, AB-L, X, XS, XJ,AH, AHJ or free license." He said he had opted for the free one and had gone to the post office and bought a book of Forever stamps to be safe. I suggested he stay at home and mail out Christmas cards.

In all due respect for the DNR, I do believe that the agency has done more for literacy in the state than all the remedial reading programs ever devised.

I know hunters whose last book read began with the spell-binding "See Spot run," who can now rattle off interpretations of the regulations complete with allegories and symbolism that I struggled with in classical literature classes years ago taught by the late Espy Miller at Glenville State. I am sincerely convinced that if literacy testing were conducted in the state using such standardized material we would rate as one of the highest in the nation.

But Burvil did have more news that pulled him away from the primary subject. He told me about Abe Hanshaw's general store and how Abe had tried to observe Black Friday in keeping with the rest of the nation, a tradition which somehow may have originated with Wise Men giving gifts that they obtained discounted by early shopping in the East a couple of thousand years ago.

People came from miles around to camp out early at Abe's because he was offering 10 jars of Granny Pratlow's pickled ramps at the low, low price of a buck a jar. (I was afraid that Burvil would digress again with the mention of "buck," but he didn't.)

While the crowd waited anxiously to be first inside, Crazy Ted had come by armed to the teeth with his Second Amendment Rights and the crowd had parted much as the Red Sea had before Moses. Abe opened early in order not to give Ted the first shot. He strolled out with only two jars, however, far less than his usual unstamped deer parts. Then the crowd made a mad lunge for the remainder. In the process, a jar was broken and Granny's secret recipe inhaled and inflamed the unruly mob, and before it was over Abe's store suffered $10,978 in damages while realizing $1,458 sales for the whole day.

So much for tradition. Abe says he now knows why it's called Black Friday as it was one of his blackest days ever in his 50 years of merchandizing.

Be all this as it may, I thought I would bring you loyal Herald readers some news from Big Puf which has been conspicuously absent for some time, as I have had many requests to provide such. Although "many requests" may be a tad extreme. I do have a regular here in Morgantown who will approach me on the street and say "Hey, wot's hoppening in Big Puf?" I make up something--can you imagine with my journalism ethics?--which appeases him, hand him a dollar, and he scurries off to buy some kind of beverage that I'm sure contains lots of vitamins and minerals.

Although he spends much of his time under the Westover Bridge with a laptop I can only imagine, I can't be too choosy with readers. I have only 26 letters to work with, but I keep hoping that by reading the DNR regulations I might cage a few more. Just putting them together to make sense is the next step. See my dilemma? By why worry. There is a vast hunting audience out there that may yet put a stamp of approval on it all.

Merry Christmas and please don't complain to me if you get hooked once again on "It's a Wonderful Life." and follow up on insulin dependency. I prefer chocolate drops myself.