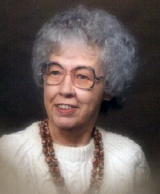 Marie Virginia Ash Crist, 84 years, formerly of Akron, passed away September 30, 2012 at Carolina House in Morehead City, NC.

She was born July 28, 1928 in Letherbark, Calhoun County West Virginia to the late Harley L. Ash and Eva R. Hall Ash. At the age of 15, Marie helped her mother care for her dad and three younger sisters. She was a 1946 graduate of Calhoun County High School and retired from Ohio Bell in Akron after a long career. Marie was very active with Special Olympics; had a wonderful sense of humor, rescued many animals and loved her pets.

Along with her parents, she was preceded in death by her husband of 25 years, Kenneth R. Crist; infant son, Kevin L. Crist; infant sister, Madeline; and infant brother, Ray. She is survived by brother, Leon E. (Marlene J.) Ash of Ocala, FL; sisters, Carol R. (T. Wayne) Wolfe of Swansboro, NC, T. Jean (Doyle G.) Marrs of Raleigh, NC, and Linda L. (Paul H.) Webb of Washington, WV; several nieces and nephews; and many friends.

Funeral services will be held Friday 1:00 p.m. at Hopkins Lawver Funeral Home, 547 Canton Road, Akron, Ohio 44312 with Reverend Harold R. Duncan officiating. Burial to follow at Hillside Memorial Park. Friends may call at the funeral home from 12 noon Friday until service time.