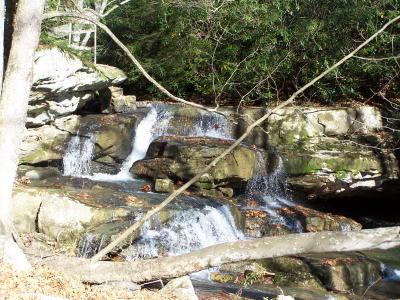 Headwaters in Upshur County near Kanawha
Head, the LK is a beautiful mountain stream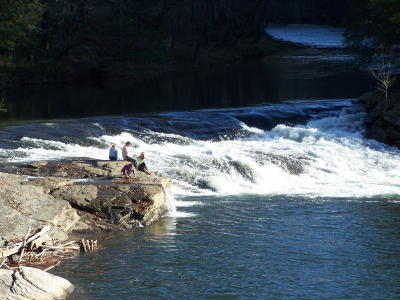 Miles downstream, a waterfall is a frequently
visited area at Falls View along State Route 4
Along its winding course, a scenic highway has been proposed since the 1970s - the Little Kanawha Parkway, which would not only open the area with a modern highway, it would provide tourists an opportunity to enjoy its tranquil nature.
The Parkway never happened.
The Little Kanawha River winds its way through a number of West Virginia counties for 160 miles, a slow moving stream that symbolizes life in rural America.
It's downside, it is unfortunately muddy much of the year and has restricted fishing because of pollution.
For local residents, the river is a place of comfort.
The rivers history is deeply rooted, early frontier travelers used the river to explore and travel westward.
The LK has long been important to the area, and on most days is a place of beauty.
Rising up in southern Upshur County, it travels through Braxton, Gilmer, Calhoun, Wirt and Wood Counties, past the towns of Burnsville, Sand Fork, Glenville, Grantsville and Elizabeth, emptying in the great Ohio at Parkersburg.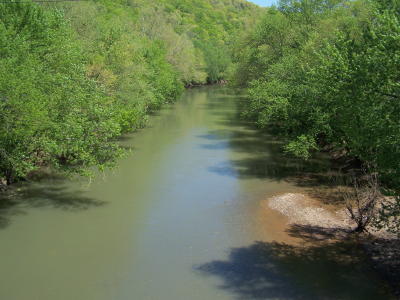 The Little Kanawha River(upstream) from the Bernard Pius Bell Bridge
in Grantsville, a slow moving stream that symbolizes rural America
The most notable change to the river is the construction of Burnsville Lake, created by the U.S. Army Corps of Engineers. It was was completed in 1976 at a cost of $56.2 million.
The LK receives its largest tributaries in Wirt County, the West Fork of the Little Kanawha River that meanders through Calhoun and empties into the LK at Creston and the Hughes River, joining it near the community of Newark.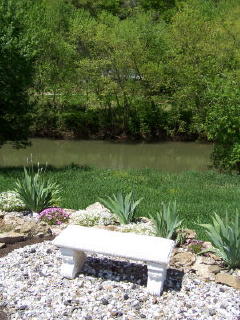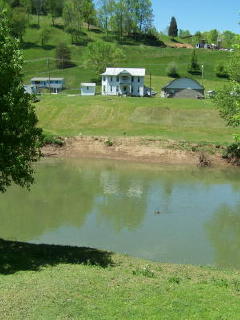 Left - a scenic overlook on River Street in Grantsville; Right - the historic Zach Stump house in Grantsville, sitting along the ancient waterway
Fascinatingly, over hundreds of years, the Little Kanawha has been called:
Fishing Creek
Little Canawha River
Little Canhawa River
Little Conaway River
Little Cunnaway River
Little Kanahaway River
Little Kanahwa River
Little Kanahway River
Little Kanawah River
Little Kanhaway River
Little Kanhawey River
Little Kawahwa River
Little Kenawah
Little Kenhawa
Little Kenhaway
Little Kennaway River
Nau-mis-sip-pia
Newmissipi
O-mom-go-how-ce-pe
O-nim-go-how
2011