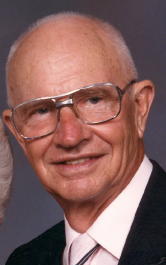 Ira Ward Boggs, 88, of Spencer, West Virginia, died Friday, September 5, 2008, in the Ravenswood Care Center, Ravenswood.

He was born January 5, 1920, a son of the late Rev. Anderson and Mistie Howard Boggs. In addition to his parents, he was preceded in death by his wife, C. Irene Wilson Boggs; one son, Jackie Ward Boggs, one great grandchild; one son-in-law, Mike Rose; six brothers and four sisters.

Mr. Boggs was a retired operator for Kaiser Aluminum and a member of the United Steelworkers of America, Local 5668, Ravenswood. He was a member and deacon of the First Baptist Church of Spencer. He was a 50 year member of the Linden Lodge No. 83, A.F. & A.M. and a member of the Linden Chapter No. 152, Order of the Eastern Star, Linden. He was also a member of the Scottish Rite of Freemasonry. He was a former rural mail carrier. He spent a great deal of time with woodworking, flower gardening and yard work. Both family and friends enjoyed hearing him recite many poems, from memory.

Survivors include one son and daughter-in-law, Wayne and Dolores Boggs of Looneyville; two daughters and son-in-law, Shelva and Frank Twyman of Streetsboro, OH and Karen Rose of Mineral Wells; two sisters and brother-in-law, Naomi Morton of Kansas City, MO and Alice and Rolland Schaller of Looneyville; eight grandchildren, Gary Twyman, Vicki Twyman, Randy and his wife, Kathy Twyman, Wayne and his wife, JoAnn Boggs, Bill and his wife, Stephanie Boggs, Dennis and his wife, Sue Boggs, Deanna and her husband, Jeff Combs, Kevin and his wife, Akiko Rose; 21 great grandchildren, four great great grandchildren; one step grandson, Jeff and his wife, Suellen White; five step grandchildren.

The family would like to thank Sherrie Reynolds, Karen Rogers, Linda Roach, Shirley Marks and Penny Young for their care and kindness while taking care of Ward for four years at his home. Also, the family would like to thank the staff at Ravenswood Care Center for their help and compassionate care these past months.

A funeral service will be held Tuesday, September 9 at 1:00 p.m. in the John H. Taylor Funeral Home, Spencer, with the Rev. Michael F. "Mike" King and the Rev. Robert Holland officiating. Burial, with Masonic Graveside Rites, will be in the Clover Cemetery, Clover.

Friends may call at the funeral home from 6-8 p.m. Monday.