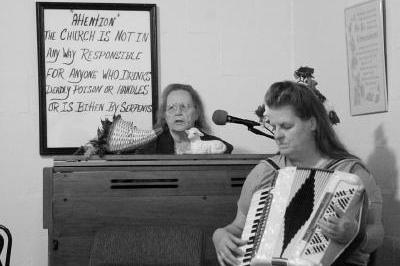 Mark 16:17-18: "And these signs shall follow them that
believe; In my name shall they cast out devils; they
shall speak with new tongues; They shall take up serpents;
and if they drink any deadly thing, it shall not hurt them;
they shall lay hands on the sick, and they shall recover"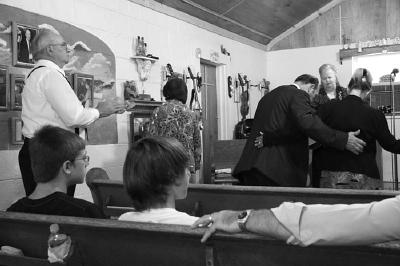 Mark 16:19-20: "So then after the Lord has spoken
unto them [Jesus' disciples] he was received up into
heaven, and set on the right hand of God. And they went
forth, and preached everywhere, the Lord working with
them, and confirming the word with signs following"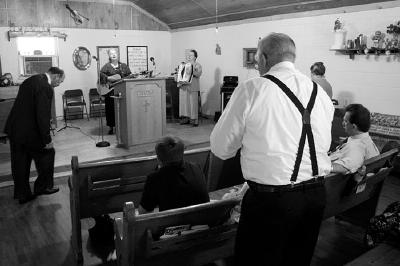 Luke 10:19: "Behold, I give unto you the power to
tread on serpents and scorpions, and over the power
of the enemy: and nothing by any means shall hurt you"
By Bob Weaver 2007
Photography by Chet Dowell
While most observers believe snake handling is among the most bizarre forms of worship, few would question the sincerity of the Pentecostal members who receive the power of the Holy Ghost, seek repentance, ask for the remission of sins, and follow a Godly life.
While West Virginia's snake handling worshipers are dwindling, the few that remain are dedicated to their faith, the power of prayer, stirring spiritual music, laying on hands, falling under the spirit and speaking in tongues.
There is no law against snake handling in West Virginia.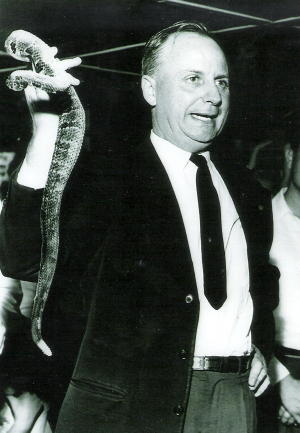 The late Rev. Elza O. Preast, unofficial
leader of WV snake handling worshipers
The last of the organized snake handlers in West Virginia are the descendants of the Rev. Elza O. Preast of Scrabble Creek, near Gauley Bridge.
Preast, who was bitten nine times in 35 years, died in 2002.
Following his death, Preast's son-in-law Michael Lanham assumed the role. Both he and his wife Brenda came from families of thirteen children.
Rev. Lanham, a retired coal miner of 35 years, with Preast family members and worshipers have built and furnished a new church on Scrabble Creek.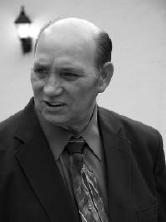 "I prayed and prayed and the help came forward to get it done," said Lanham (pictured left).
During a recent service, the worshipers played four guitars, a piano, an organ, an accordion, and a tambourine, singing songs with stirring lyrics about gettin' on travelin' shoes, carrying a load on a rocky road, and some glad morning.
There was dancing and shouting for those who get in the spirit.
Lanham, after drinking from a bottle of strychnine, said "We need to have all our Armour on, the devil is coming," his faith appearing to exceed that of a mustard seed.
"I've gone over too many bridges to turn back now," he said, speaking of humility before God, asking "How about getting down on your knees in the dirt?"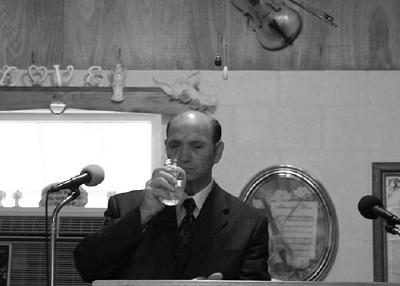 Pastor Lanham tests faith by drinking strychnine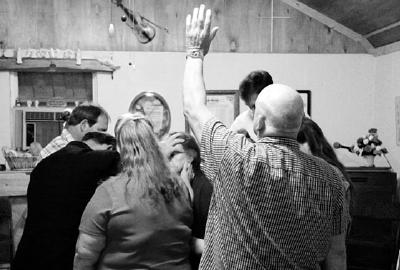 The power of prayer, the laying on of hands
The congregation joined in a hand-held prayer circle praying for all the afflicted and down-trodden, recognizing everyone in the sanctuary.
Theologians contend the handling of serpents is a supreme act of faith that reflects the danger and harshness of life in southern America.
The founder of snake handling in America is George Went "Little George" Hensley (1880-1955). After a sermon in 1910 at his small church in Tennessee, the former bootlegger removed a poisonous snake from a box and handled it and then ordered the men in the congregation to handle it as an act of faith.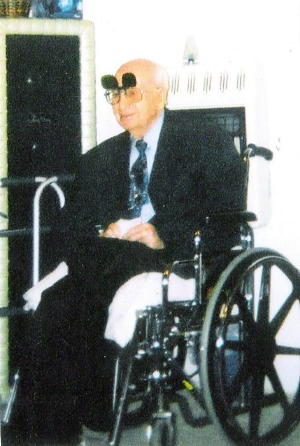 Elza O. Preast shortly before his death in 2002
POSTSCRIPT: My first visit to the Gauley Bridge snake handling church was in the early 1960s with country music legend Tom T. Hall We are grateful for the kind reception given Chet Dowell and myself, returning to visit the church after 40 years. The Hur Herald contributed to a landmark TV series in 2002 BBC program "Around the World in 80 Faiths," including serpent handling.
Watch video  Homecoming - Snake Handling Church In West Virginia