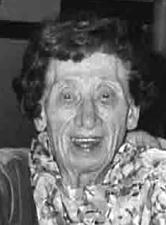 Hazel Mae Wayne Latou, 84, of La Grange, Ohio, died Tuesday, August 1, 2006 at Lenoir Memorial Hospital. Mrs. Latou was born Hazel Mae Butler on May 5, 1922 in Calhoun County, West Virginia. She was preceded in death by her mother, Roxie Butler Jackson; step-father, Arley Jesse Jackson; and father, Homer Sampson (Wayne).

She was a 1938 graduate of Grantsville High School in Grantsville, WV. Mrs. Latou attended the Charleston School of Commerce in Charleston, WV, Buchtel University in Akron, OH and Hammel University in Akron, where she was trained as an accountant. In 1967 she obtained a certificate in IBM Computer Programming.

In 1942 Hazel went to work as a company executive for the D.M. Siff Shoe Company in Akron, OH where she helped Julius and Lawrence Siff manage a chain of eighty five shoe stores. She gave up her career in 1958 to raise her family.

In the 1970's she obtained her real estate license and worked at Hill Realty in Kinston and otained her brokers license in the 1980's. She also enjoyed flea marketing, having a booth in Morehead City and later Goldsboro.

Mrs. Latou is survived by her husband of forty nine years, William W. "Bill" Latou, retired chemist from Joy Manufacturing/Cooper Industries; two daughters, Paula Kay Latou Mercer and Bernice Latou and her boyfriend, Bill Grimes-Wyatt, all of Baltimore; three brothers, O.L. "Jack" Jackson of Inglis, FL, Robert Leon Jackson of Cuyahoga Falls, OH, Clayton Wayne and wife, Donna of Vienna, WV; sister, Vallie Wayne Duke of Vienna, WV; cousins, Delma Bailes of Nettie, WV and Norman Lester of Washington, DC, Chester and Irene Boggs of Dunnellon, FL; nieces, Andrea Jackson Clements of Uniontown, OH, Andrea Jackson Heath of Newalla, OK, and Katherine Gibson of Inglis, FL; and a nephew, Steve Jackson of Akron, OH.

A memorial service will be held Thusday, August, 10, 2006 at 2 p.m. from Rouse Funeral Home with Rev. Brad Mitchell officiating. The family will receive friends Wednesday from 2-4 and 6-8 p.m. at Rouse Funeral Home and at other times they will be at the home. Memorials may be made to the Lenoir County SPCA, the Salvation Army, Disabled American Veterans or Paralyzed Veterans of America. Arrangements are with Rouse Funeral Home, La Grange.