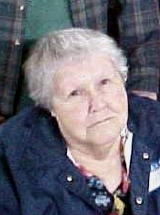 Pauline Hamblin, 76, of Grantsville, West Virginia, went home to be with her Lord July 3, 2005.

She was a daughter of the late James Ernest and Rosie Slider Craddock.

She leaves behind a daughter, Dorothy Johnson and her husband Mike; sons, William Greathouse and James Greathouse and his wife Barb; grandchildren, Charlotte (Mike) Morgan, Johnathan (Missi) Busch, Ricky Johnson, Tessa and Erica Greathouse; great grandchildren, Kori, Christen, Timmy, Jacki, Ceara and Cheyenne.

In addition to her parents she was was preceded in death by two sisters, Lona and Millie; three brothers, Roy, Holly and Averil; and a great grandchild, Nikki Wyatt.

She will be sadly missed by all who knew her, and always remembered for her kind and gentle spirit.

The family would like to thank Miletree Center of Spencer for their loving care.

Funeral services will be held 2 p.m. Thursday, July 7th at Stump Funeral Home, Grantsville. Johnny Miller and David Weaver will officiate. Interment will be in the Slider cemetery at Mt. Zion.

Friends may call at the funeral home one hour prior to the services.