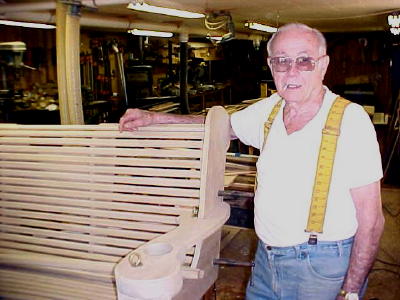 Hur Herald Photo (2003)
2003
The late Rubert "Rube" Stump, a Calhoun native, of Glenville, was known for his custom-made porch swings constructed in a workshop on his family's Calhoun County farm.
He is the subject of an article in the summer issue of GOLDENSEAL magazine, now on sale.
The article, titled "Rube Stump: Calhoun County's King of Swing," was written by Kim Johnson and was based on an interview she conducted with Stump shortly before his death on March 31.
Rube Stump made distinctive swings of his own design - with wood he timbered himself on his family's land - in his woodshop at Apple Farm in southeastern Calhoun County.
He added innovations such as self-draining cup holders and magazine racks, and offered the swings in various sizes to accommodate different porches.
At the time of his death, Rube had completed more than 150 swings in red oak, wild cherry, white ash and black walnut hardwoods. The swings sold from $245 to upwards of $600.
Before he began woodworking, Rube Stump had already held several careers, according to the article. Born in 1925, he grew up during the Great Depression and served as a Navy pilot in the Pacific during World War II.
Rube operated a car dealership in Glenville for nearly two decades. In addition, he grew and sold Christmas trees for many years. About 30 years ago, Rube's brother Hughart took a table saw and joiner in trade for equipment and stored the tools at the family farm.
After Hughart died in 1977, Rube tried out the tools and discovered a passion for woodworking that led to his porch swing business.