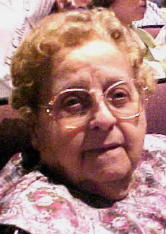 One of the Grantsville's well-known ladies has died.

Ninety-eight-year-old Alma Peggy Ice Fowler died March 15, 2005 at North Hills Passavant Hospital in Pittsburgh where she was living with her son William Ice.

Alma had been the oldest living graduate of the old Calhoun County High School, the Class of 1927, and frequently returned the the alumni reunion to meet with her old friends.

She was a homemaker and a member of the First Baptist Church of Grantsville, a charter member of the Grantsville Rebecca Lodge, a member of the Eastern Star and was active in the American Legion and VFW Auxiliaries.

She was born at Arnoldsburg, WV, daughter of Charles Enos Offutt and Ursula Schartiger Offutt.

Surviving are her son William L. Ice, daughters-in-law Virginia and Sherron Ice, grandchildren Teresa Ice Pomerleau, Douglas Ice, James Ice, Peggy Ice Rogers, Billie O. Ice and April Ice Rogers and six great grandchildren.

She was preceded in death by husbands Walter F. Ice and Obert E. Fowler, and one of Calhoun's best known soldiers, Clovis Drexel "Frosty" Ice.

Services will be conducted at Stump Funeral Home in Grantsville this Saturday at 10 a.m. with the Rev. Greg Swisher officiating. Visitation will be Friday from 6:00 p.m. to 9:00 p.m. Order of Eastern Star service will be Friday evening at 7:00 p.m. at the funeral home. Burial will be in the Bethlehem Cemetery, Grantsville.