FEB. 2023: LONGTIME CALHOUN TEACHER LARRY HARRIS HAS PASSED

"LIKE GIVING A CHAINSAW A SHOT" - Larry Harris' Quotable Quotes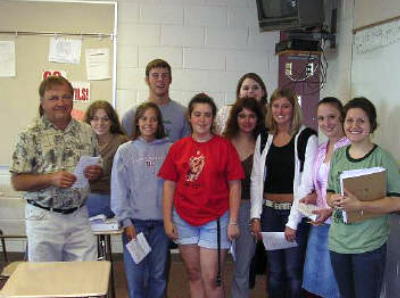 (L to R) Larry Harris, Susan Sullivan, Chelsie Hupp, Zach Houchin, Debby White, Cynthia Wildfire, Kelly Badgett, Melissa Hartshorn, Vicki Lamont, Barbara Shock
CHS teacher Larry Harris was honored by his Senior Honors English class in 2004 before his retirement and becoming a Board of Education member.
Harris often speaks of a time that Calhoun High School students were rising to the top and performing well.
He was presented in 2004 with a collection of quotes accumulated throughout the year by one of his students, Susan Sullivan.
His class of nine has earned college credit hours for English 101, English 102, and English 201. They've worked on composition and literature during both the fall and spring semesters.
Harris is the son of one of Grantsville's humerous storytellers, Bill Harris.
A Few Harris Quotes Recorded By His Students
"... Like giving a chainsaw a shot." (on vaccinating cats)
"I think in the shower. I always said if you hear me drown, I must've had a good idea."
"That last essay was rough ... more like ornery."
"Got a problem, Houston ... we've run out of words."
"Carl taught with the finesse of a Gestapo agent."
"I don't care if Jack the Ripper is the sub. If I don't show up, people are happy."
"Quit being a wimp, Proofrock. Be a pair of ragged claws."
"They feed you cookies and milk and you go to sleep and dream of Christmas." (on Kindergarten)
"Put you hand out like this. I said put your hand out like this! Now shake it. That's called cookie withdrawal. Hello!!"
"And the 'Y' in Christmas is for 'Yippeee!'"
"I'm gonna give you guys an assignment I haven't given in thirty years. I always thought it was unfair."
"You guys are dumber than chickens."
"Are you laughing at me? Go ahead and laugh. I laugh at your grades."
"First time in the history of me."
"... And I said to myself, Self, you will never be thirsty again."