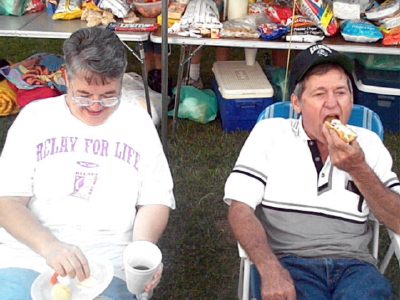 Doyle Hupp, Sr. and wife Geraldine during happier days
A well-known Calhoun man has died Thursday, the victim of a tragic farm tractor accident.
Russett Road resident Doyle Hupp, Sr. was 74.
Hupp was pronounced dead at the scene.
Numerous callers told the Herald Thursday night that Hupp was the best neighbor and friend they ever had, a "man who enjoyed life and never met a stranger."
Funeral services will be held Monday at 11:00 am at the Stump Funeral Home in Grantsville. Burial will follow in the Hupp Cemetery at Grantsville. Friends may call at the funeral home Sunday from 6:00-9:00pm.
Read complete obituary Doyle Dewitt Hupp
ORIGINAL STORY 9/11/2014 - A 75-year-old Russett Road man died from injuries received in a tractor accident Thursday afternoon.
The man was reportedly dead at the scene.
Responders were dispatched to the incident at 4:30 p.m. near a residence, about two miles from Grantsville on State Rt. 7.
Responding, Minnie Hamilton EMS, the Grantsville Volunteer Fire Department, and the State Police.
The name of the victim is being withheld, pending notification of next of kin.