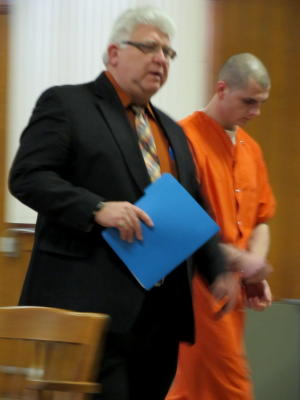 Vance leaves courtroom after sen-
tencing with his attorney John Oshoway
Accused bank robber Richard Vance, 23, was sentenced by Thomas C. Evans III Monday to 5-18 years in prison and ordered to pay $31,198 restitution to Calhoun Banks at Arnoldsburg.
The plea bargain was reached between Prosecutor Rocky Holmes and Vance's attorney John Oshoway.
Holmes, as part of the plea, requested a charge of sexual assault against a 16-year-old Calhoun girl against Vance be dropped, indicating the girl was favorable in the matter.
The trial hit a snag in November, 2011, when Vance's attorney John Oshoway asked for a dismissal because prosecutor Rocky Holmes had not provided discovery in a timely manner. Oshoway called it an 'Egregious Case Over Denial Of Due Process'
Judge Evans denied prosecutor Holmes request to send Vance to the Anthony Center for an evaluation, and went straight to sentencing.
Vance, when asked if he wanted to speak to the court, said he was sorry for the victims of the crime, but when Judge Evans asked him if he was guilty, he denied guilt.
"People (bank employees) were terrorized," said Judge Evans, the hold-up involving employees being held at knife-point with vicious threatening words. "He denies he committed this robbery."
Calhoun Banks employee Mary Ann Parsons, speaking for Calhoun Banks victims, emotionally told the court how the incident affected her and bank employees, saying she continued to have nightmares.
Judge Evans reviewed Vance's previous criminal history of grand larceny, and a probation violation.
The September, 2010 robbery was the second to be experienced at Calhoun Banks in Arnoldsburg, which has caused the bank to add a number of high-tech mechanisms to prevent further hold-ups.
In an earlier case, Tiffany R. Davis, 23, of Grantsville, appeared for a pre-trial hearing, charged with operating or attempting to operate a clandestine meth lab.
Davis' attorney Betty Gregory expressed concern she had not received discovery from prosecutor Holmes, after which Judge Evans chastized the prosecutor over the matter. The case is set for trial in April.
Read Earlier Stories:
ACCUSED BANK ROBBER'S TRIAL HITS A SNAG - Attorney Asks For Dismissal, 'Egregious Case Over Denial Of Due Process'
VANCE DENIES INVOLVEMENT IN CALHOUN BANK ROBBERY - Judge Nibert Sentences Vance 1-10 For Probation Violation
ATV ALLEGEDLY USED IN CALHOUN BANK ROBBERY RECOVERED
PROBABLE CAUSE HEARING FOR ACCUSED BANK ROBBER DELAYED - Vance Will Have Court-Appointed Attorney, Hearing Set For December 7
POLICE SAY EVIDENCE TIES VANCE TO BANK ROBBERY
CALHOUN BANK ROBBER REPORTEDLY ARRESTED IN TEXAS
SURVEILLANCE PHOTOS OF CALHOUN BANK ROBBER - TV Cameras Catch Suspect In Bank