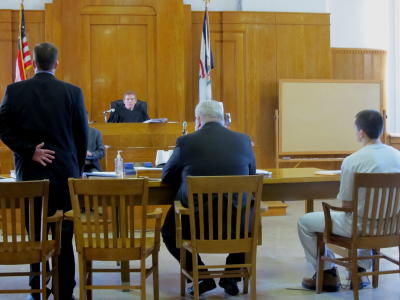 L to R: Prosecutor Rocky Homes, defense attorney John Oshoway and defendant Richard Vance discuss issues with Judge Thomas Evans III
The trial of Richard Vance, accused of robbing the Calhoun Bank in Arnoldsburg in September, 2010, hit a snag Tuesday in Calhoun Circuit Court.
Vance's attorney John Oshoway moved to dismiss charges against Vance because Prosecutor Rocky Holmes had failed to provide discovery documents in a timely manner.
Discovery documents were not made available to Vance's defense attorney until 18 days ago.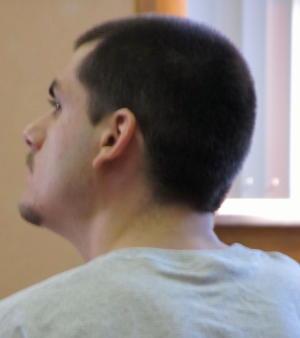 Accused bank robber Vance hears problems related to his case
Oshoway said, "90% of the discovery was available in January."
"We submit this as an egregious case of denial of due process," he continued.
Prosecutor Holmes told Judge Thomas Evans III that a number of complications regarding what he said is still an ongoing investigation, held up the preparation of discovery documents.
Evans asked prosecutor Holmes, "Do you think 18 days is enough time with discovery to go to trial?"
Holmes told Judge Evans he had problems getting the documentation to attorney Oshoway, after which Evans asked, "Do we not have FAX machines? ... This is the first time I've heard this argument."
Holmes indicated he had problems with a lack of resources to put such a case together, after which Judge Evans responded he was well aware of financial problems in Calhoun, but other prosecutors have managed to get the job done.
Attorney Oshoway complained surveillance video of a man robbing the bank had not been made available to him, with the crime being committed in September, 2010.
The court acknowledged problems with key witnesses not being available Tuesday for a trial.
Judge Evans denied Oshoway's request for dismissal, accepting prosecutor Holmes request for a continuance.
Evans said the issue is, "How can Mr. Vance get a fair trial in Calhoun County," indicating that the victims of the crime are employees of Calhoun Banks, and there may be problems that debtors or creditors, customers of the bank, cannot serve on a jury.
A hearing regarding that matter will be held Thursday at 11:30 a.m., at which time a date will be set for continuance.
See related story SURVEILLANCE PHOTOS OF CALHOUN BANK ROBBER - TV Cameras Catch Suspect In Bank