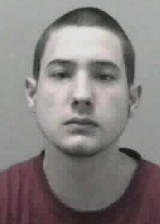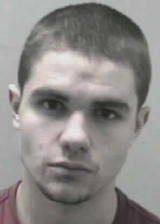 Richard Lee Spetz (left) and Jacob Daniel Young
By Bob Weaver
Two Clay countians have been arrested on multiple charges for a construction site theft in Roane County, and one grand larceny charge in Kanawha County for the theft of trucks.
Nineteen-year-old Jacob Lee Young of Clay has been charged with about 20 counts by authorities, and is being held in Central Regional Jail on $349,000 bond.
Richard Lee Spetz, 19, a relative of Young's, has been charged with nine counts, and is also being held in Central Regional Jail on $116,000 bond.
The charges are related to the theft of property from a Geary Elementary School construction site near Newton, including tools, with an estimated value of $15,000, according to a criminal complaint.
Young's vehicle was caught by a video surveillance camera.
Roane County sheriff deputies discovered the vehicle at Young's house at Ovapa, an area known as "Murder Mountain," learning that the truck he was driving was stolen from Nicholas County, according to the complaint.
Following a search of the Young property, a number of tools and equipment was discovered.
Chief Deputy L. T. Cole, according to the complaint, later obtained a confession from Ethan Nichols, regarding his participation in the theft.
In a separate criminal complaint, Young was charged with stealing multiple vehicles on Big Sandy Road in Kanawha County, accompanied by Richard Spetz.
Chief Deputy Cole and Lt. Jeff Smith tracked a wrecked vehicle driven by Young during the Kanawha County thefts back to his residence at Ovapa, a vehicle belonging to his late mother Renee Boyd.
Young has been charged with multiple counts related to the theft in Roane County, and is also facing one felony count for grand larceny in Kanawha County. He was arraigned in Clay County.
Richard Lee Spetz has been charged with two felony counts of grand larceny, one felony attempt to commit a felony, four counts for felony conspiracy and two counts for misdemeanor destruction of property, according to Central Regional Jail.
Jacob Young is the son of Clay County's well-known "Murder Mountain" resident Tommy Young, Sr. and brother to Tommy Young, Jr., both found guilty for stealing heavy equipment valued at $300,000 from this region and other states. They are currently incarcerated.
Equipment stolen from Calhoun belonging to murder victims Mike and Julie Flanagan was discovered on Murder Mountain.
The Youngs were in the crossfire of what was reported to be several thousand rounds of shots fired on Murder Mountain several years ago, variously described as a family feud associated with drug dealing, reported by the Herald.
Young's brother-in-law Richard Cummings was connected to a murder incident in Roane County, the death of Judson Reid, whose body was taken from Tariff and dumped on a mountain above the Town of Clay.
See related stories CLAY MAN AND SON GUILTY OF STEALING $300,000 EQUIPMENT
"IT IS A WAR ZONE" - "They Are Getting Even" On Murder Mountain
"ALL HELL BROKE LOSE AGAIN" ON MURDER MOUNTAIN - Tommy Young, Sr. Reportedly Shot
MURDER MOUNTAIN GUNSHOT VICTIM DIES
THE HARD LIFE OF RENEE BOYD - Murder Mountain Woman Goes To Her Rest