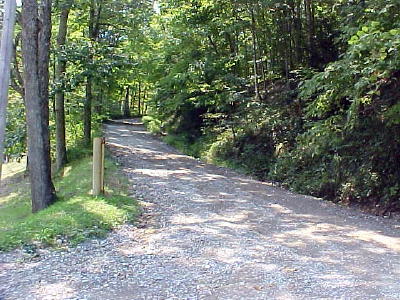 Peaceful road leads to Clay's Murder Mountain, where
hundreds of rounds have been fired from automatic weapons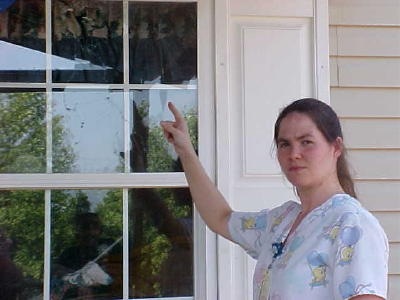 Renee Boyd, girlfriend of accused shooter, points
to broken window she says was caused by gunfire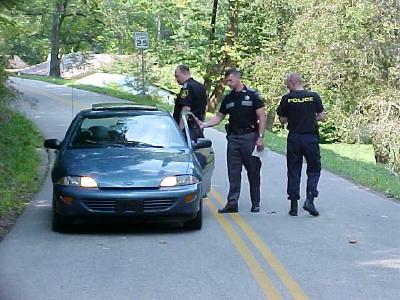 Clay deputies conduct road check on Renee Boyd near Murder Mountain
By Bob Weaver
It has been relatively quiet on Clay County's "Murder Mountain" the past 24 hours with the Clay County Sheriff's Department setting up road checks and more arrests pending.
State Police have issued a warrant for 17-year-old Tommy Young, Jr. for his role in a dispute which has caused his father, Tommy Young, Sr. to be placed in Central Regional Jail.
The elder Young, age 37, has been charged with the malicious wounding and wanton endangerment of Richard Cummings. He is being held on $150,000 bond.
Bullet holes and broken windows, the result of gunfire, are evident at the houses occupied by Young and Cummings, who live a short distance apart on the mountain.
Cummings was shot three times during the early morning hours Tuesday, escaping his house with his small children and taking them down from Murder Mountain to seek help.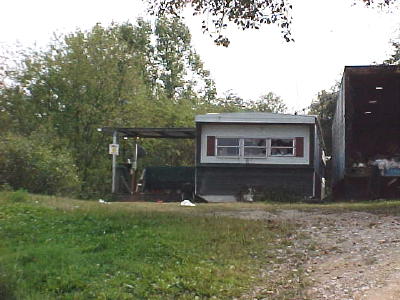 Cummings was shot in trailer reportedly riddled with bullets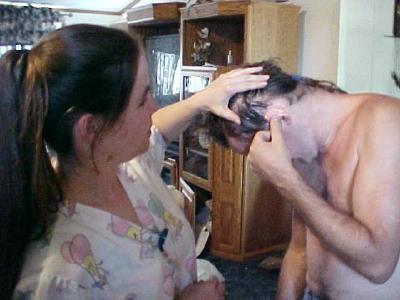 Renee Boyd claims "Cousin Mikey was shot
in the head by Richard Cummings" a few days ago
Several neighbors frightened by the sound of hundreds of rounds of automatic fire coming from AK-47s and SKSs, declined to open their door for Cummings.
Eventually a call was placed to 911 after Cummings collapsed on a porch.
Cummings, who was treated and released from a hospital, returned to Murder Mountain Wednesday where authorities believe Tommy Young, Jr. continued to engage in gunfire directed toward Cummings.
Automatic gunfire has been heard ringing across the hills in the Ovapa area near the Clay-Roane line off and on for several weeks.
"They are getting even," said a neighbor, indicating it was a related to drug problems. "It is a war zone, and we're all hunkering down."
"This kind of stuff has been taking its toll on our community these past five years," he said.
Some of the principals have been connected to various murder cases, including the murder of Judd Reid by Tattoo Vince Gosolow at Tariff in Roane County.
This week's shoot-out is a who's-who of individuals whose names surfaced in that case, where Judd Reid's body was hauled from a Roane County farm and dumped on Pisgah Ridge near Clay.
Richard Cummings and his girlfriend Sandra Khalaf testified in the Reid murder case against Tattoo Vince, who is now in prison for the murder.
A recent drug arrest at Creston in Wirt County has surfaced another witness who testified in the Reid murder case. Russell Davis was arrested by authorities in a case related to cocaine distribution.
New accusations may be surfacing regarding the disappearance of 18-year-old Christian Dawn Starcher Seabolt of Spencer, who walked outside her mother's apartment to get a pack of cigarettes and has not been seen for nearly two years.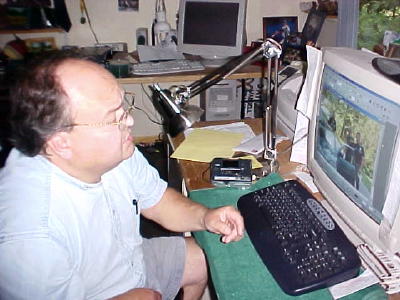 Andy Waddell, Editor of Clay's tabloid paper the Clay Communicator, working on Clay County shooting story for his paper published today