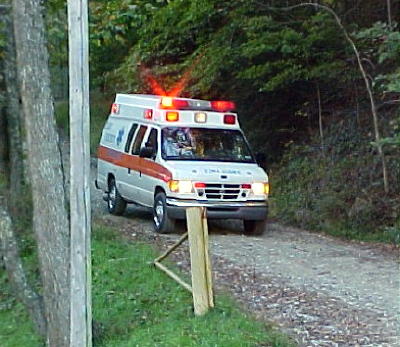 Ambulance speeds off Murder Mountain with a shooting victim last night (Clay Communicator Photo)
By Bob Weaver
"All hell broke loose again," said an Ovapa, Clay County, resident last night. "They're trying to kill each other."
Gunfire on Clay's "Murder Mountain" yesterday evening has reportedly resulted in the wounding of one of the two principal parties involved in an earlier shooting incident.
It appeared to be a "get even" shooting.
Thirty-seven-year-old Tommy Young, Sr. was reportedly shot by Richard Cummings, also 37, shortly before 5 p.m. yesterday.
An unconfirmed report said Young suffered a gunshot wound in his leg.
Police have yet to confirm the incident.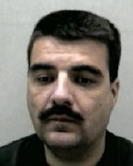 Tommy Young, Sr., 37 (pictured left) was arrested following an earlier incident where he allegedly shot Cummings while he was inside his mobile home on Murder Mountain.
Young was charged with malicious wounding and wanton endangerment, after which he was released from Central Regional Jail.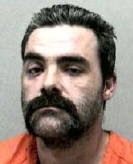 Later, Richard Cummings (pictured right) was arrested for possession of marijuana with intent to deliver, but he was also released from Central Regional.
Cumming's sister Renee Boyd, who has had a longtime relationship with Tommy Young, accused her brother, Cummings of helping grind-up the body of an 18-year-old Roane County girl Christian Dawn Starcher Seabolt, missing since August 31, 2002.
Boyd claims her brother was a party to making "b - - - h burgers" from the body of the missing girl, claiming her remains were digested.
Authorities have yet to prove or disprove her claim.
The Ovapa "Murder Mountain" section of Clay near the Roane County line has been the scene of frequent gunfire and windings. It has been described as a war zone related to drug trafficking in the region.
During an earlier episode, Cummings was shot three times, but he managed to stumble down the remote mountain to a neighbor's house.
Reports indicated Cummings was chased by Tommy Young, Sr. and Tommy Young, Jr., 17, and 12-year-old Jacob Young, likely using semi-automatic weapons.
Tommy Young, Jr., a minor, is still incarcerated on multiple charges, reportedly related to this and other incidents to which he was a party.
Cummings and his girlfriend Sandra Kahlaff testified in the "Tattoo Vince" Gosolow murder case in Roane County where Judson Reid was murdered and his body dumped on Pisgah Ridge near Clay.
Authorities are reportedly searching for Richard Cummings.