UPDATE - Showing on The Oxygen Network "Exhumed" January 24th, 2021 at 8pm, the murder of Calhoun man Erastus Gene Stump, episode name is "Killer Cowboy."

ORIGINAL STORY - The Oxygen Network has televised the story of the torturous murder of a Calhoun man, Erastus Gene Stump, whose exhumed body in a Calhoun cemetery led to catching his murderer.

The production has been aired on a series called "Exhumed," season one, episode four.

The Herald is attempting to get airing dates from the producers.

The Herald contributed to the story about Stump's life and times, including his exhumation.

MURDER OF CALHOUN MAN ERRASTUS GENE STUMP TO BE FEATURED ON OXYGEN CHANNEL'S "EXHUMED" - Hur Herald's Coverage Of 1982 Beheading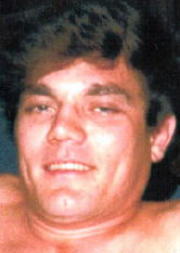 A reality TV show will be featuring a story about a murdered Calhoun man who was beheaded in 1982, detectives describe the act as "pure evil."
7/12/2020 - Errastus Gene Stump (pictured right) was murdered after he left the county, and was returned for burial, then exhumed years later as a cold case investigation, to finally being solved.
The event will be featured on the Oxygen Channel's "Exhumed."
Each episode of Exhumed examines a murder case in which unearthing a victim's body is the "vehicle in solving the twisted crime."
Viewers will look at the exhumation from the emotional lens of a family and the strategic perspective of the investigators assigned to the case.
The series features stylized re-creations, archival footage and interviews with those closest to the cases, in this case using coverage by the Hur Herald, which covered the exhuming of his body and the ensuing investigation.
See earlier articles   CALHOUN MAN'S BODY WILL BE EXHUMED FOR AUTOPSY - Tennessee Officials Investigating Murder Of Errastus Gene Stump
UPDATE: CALHOUN MAN'S BODY WILL BE EXHUMED IN MURDER INVESTIGATION
SIX YEAR FLASHBACK: CALHOUN BODY EXHUMED FOR AUTOPSY - Errastus Gene Stump Murdered In 1982
FORMER CALHOUN MAN'S ALLEGED KILLER CHARGED AFTER 26 YEARS