By Bob Weaver

Calhoun Circuit Court will consider a petition Monday to disinter and perform an autopsy on a former Calhoun man who was murdered in Tennessee in 1982.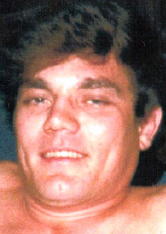 Errastus Gene Stump (pictured left) formerly of Grantsville, was 28 when his headless body was discovered near Bristol Tennessee, according to newspaper accounts of the murder.
Twenty-six-years later in 2008, authorities arrested Mac Ray MacFarlane (who changed his name from McFarlin) age 49, who was Stump's co-worker at the time of his death.
The body is buried in the Clayton Stump Cemetery at Russett.
Rutherford County Tennessee officials have requested Calhoun County Prosecuting Attorney Shelly DeMarino to have the body examined, saying the case is "an ongoing investigation into his death."
While Stump's death was ruled as a homicide in 1982, no autopsy was performed.
"The defendant (MacFarlane) has been arrested and the defense has raised what they term is a lack of positive ID of the body," officials say.
A continuance of MacFarlane's trial has been granted for an autopsy to be performed to retrieve evidence from the body, including DNA and possible ballistic evidence.
The original cause of death was given as a single gunshot wound to the head.
Judge David W. Nibert will hear the request.
See related story FORMER CALHOUN MAN'S ALLEGED KILLER CHARGED AFTER 26 YEARS