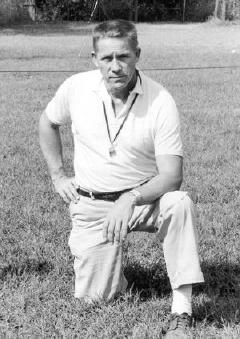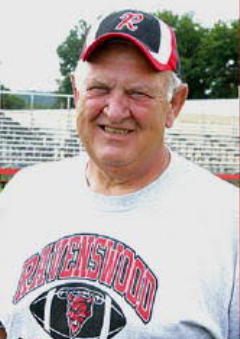 Honoring Coach Wayne Underwood (left) by Coach Dick Sturm (right)
WCHS - There have been an array of great coaches in the history of West Virginia high school football.
One of the true gems was the late Wayne Underwood, who led Calhoun County Red Devil football to outstanding success over a span of 16 seasons.
This monument says it best about Wayne Underwood, "He was not a great man because he was a great coach, he was a great coach because he was a great man."
"Coach Underwood was a different individual. Very mild-mannered. He didn't rant and rave," said former player Dick Sturm.
Wayne Underwood became Calhoun's head coach in 1946, the start of his phenomenal 125-33-7 record, which included three undefeated seasons. He had a knack for bringing young men together as one.
"He traveled around the county conducting summer activities for young men and so on. We played baseball and he would take kids from one area over to another area to play and spend time with those, not only the participation in athletics but it gave us knowledge of kids in other areas."
His love for the game started in West Union. He wound up at Marshall and was an All-American and then played in the NFL before launching his coaching career. Dick Sturm says Underwood was truly ahead of his time.
"Defensively, he developed a pattern that was later picked up secondary rotations and things like that it was later picked up by the New York Giants. Actually a couple of years before that, Coach Underwood installed it there at Calhoun.
Friday nights at old Underwood Field in downtown Grantsville were special.
"Probably that was one of the largest gathering of people in Calhoun County was on Friday night football."
Lives changed in Calhoun County on October 26, 1967 when Underwood passed away suddenly of a heart attack at the age of 53.
"That was devastating to the whole county. He was so well-respected and admired by people."
Including Sturm, who became a teacher and coach Ravenswood's head coach for 15 seasons and won 111 games, including the final game at Wayne Underwood Field. He learned plenty from his old coach, mainly loyalty.
"He had chances to leave, but he and his family just loved Calhoun County."
The late Wayne Underwood, a West Virginia coaching legend...and most of all a great man.
Coaching football was a family affair. Wayne Underwood's brothers, Ted and Spike, were also coaches. In fact, Dick Sturm became a Hall of Famer for Ted Underwood at old Salem College.
see   FORMER CALHOUNER DICK STURM ENDS ILLUSTRIOUS COACHING CAREER
And   THE 'BIGGEST' 10-POINTER - Displaying The Kill