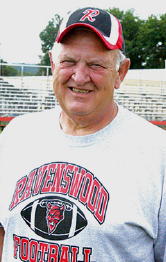 Ravenswood High School Principal Jo Hendricks has recommended Red Devils boys basketball Coach Mick Price for the school's football position, recently vacated by the retirement of Dick Sturm.

Sturm (pictured right) a former Calhoun Red Devil and protégé of Wayne Underwood, announced his retirement in January after compiling a 115-65 record as the Red Devils' head coach.

He had been with the program since 1967 and was head coach for 15 seasons, leading Ravenswood to the Class AA playoffs eight times.

The Red Devils reached the Class AA state championship game in 2010, falling to Magnolia, 28-13.