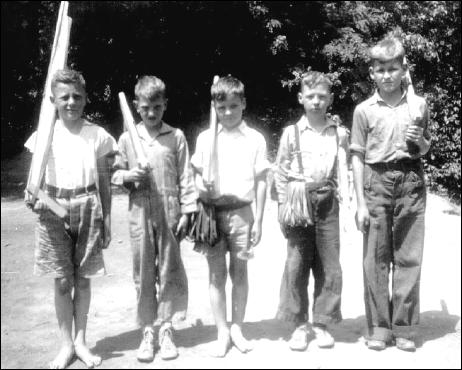 "The Rubber Gun Gang" (L to R) Jack Elliott, James
Hardman, (Dr.) Charles Albert Stump, Eugene Shaffer,
Herbert Criss (1935 Photo Courtesy of James Hardman)
Grantsville had a gang in the 1930s, not of the variety that makes the evening news in this day.
The five members called themselves "The Rubber Band Gang," likely related to their "weapons" being powered by rubber bands.
Now, the last surviving member of the gang, James E. Hardman, of Grantsville has passed at 86.
Read full obituary James E. Hardman
Dr. Charles Albert Stump, son of Albert and Gladys Weaver Stump, of Daytona, Floria died in 2011 at 84.
George Eugene Shaffer, son of Charter and Odessa Pearl Connolly Shaffer, of Grantsville died in 2013 at 85.
Jack Elliott, son of Paul and Mae Stump Elliott, died in 1986.
Information not available on Herbert Criss.