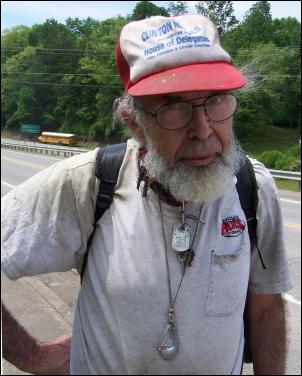 Charlie Blair's view on life, a conversation after dumpster diving at Grantsville's Foodland
By Bob Weaver 2010
Charlie Blair was likely Calhoun's best known scavenger in recent years, always collecting other people's discards to become his usable treasures.
He generally had several bags of goodies, from food items to pop cans, but sometimes he would tote car parts and furniture back to his abobe at Broomstick.
"Families throw away enough stuff to take care of two more families, he said, halting on the Grantsville bridge to talk about re-cycling and human needs.
"We live in a wasteful world," he said, "Most things tossed in the trash have value, sooner or later."
"Most people want a lot, but you know and I know we need very little to survive," Charlie concluded.
Charlie lost all his possessions, including his vast collection of re-recyclable objects, when his house burned. Then his mobile home burned.
Free spirited Charlie got in a little trouble in Grantsville, streaking in the buff down Mill Street, but he did have his cap and backpack on.
Charlie's friends of years ago, say he began to suffer from mental issues after serving in the military.
Charlie currently lives in Parkersburg.
See CHARLIE BLAIR INJURED IN MOBILE HOME FIRE - Tragedy Strikes Twice
CHARLIE BLAIR SAYS "I'M GONNA MAKE IT"
GRANTSVILLE MAN WEARING BACKPACK AND HAT (THAT'S ALL) CHARGED WITH INDECENT EXPOSURE