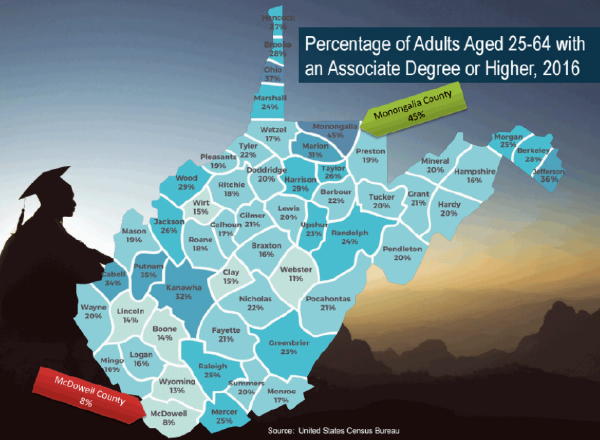 By Bob Weaver
The US Census Bureau says in 2016, 17% of Calhoun adults aged 25-64 had either an associate college degree of higher.
Monongahela County had the highest rate at 45% and McDowell County had the lowest at 8%.
Regionally:
Roane 18%
Wirt 15%
Ritchie 18%
Clay 15%
Gilmer 21%
Braxton 16%
Calhoun, according to the WV Higher Education Policy Commission, has the lowest number of students entering college, although those students were better prepared, needing fewer remedial courses to catch them up.
This week a bill in the West Virginia Legislature passed the Senate, providing free community and technical college for state residents.
The Senate approved a similar bill last year but it stalled in the House.
It would authorize tuition grants to West Virginians at least 18 years old who've completed a secondary program.
It would require passing a drug test each semester, maintaining a 2.0 grade point average, taking at least six credit hours a semester and performing at least eight hours of community service.
Recipients would have to repay grants if they don't live in West Virginia for two years after getting their degree or certificate.
See CALHOUN COLLEGE ENTRY STUDENTS NEED LESS REMEDIAL ENTRY COURSES - Despite Having Among Lowest College Entry Students>
WEST VIRGINIA RANKS NEAR BOTTOM IN WALLET HUB'S EDUCATION STUDY