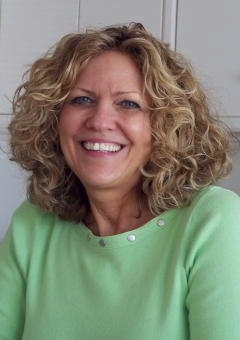 Joan Whisman Satterfield (1950-2014)
Well-known Calhoun woman Joan Whisman Satterfield, who has had a long-time battle with cancer, has died in Sarasota, Florida at the age of 64.
About 2007 she had been diagnosed with Acute Myelogenous Leukemia, a particularly difficult cancer to treat, with other forms of cancer surfacing, and over the years had some brief remissions from the disease following treatment.
Family members had been at her side in the past few days as her condition worsened.
She was among a few female WV Department of Highway workers who rose to a position of county administrator, having worked for the agency for 34 years.
Friends, acquaintances, and people who would have liked to know her should read: She Finally Let Her Hair Down
Joan, the wife of Steve Satterfield, mother to Tia and Chad, sister to Twila, was the daughter of the late Marion and Elah Whisman of Hur, often written about on the Hur Herald as "pedestal people," who were imbued with the power of faith, spreading it to the lives of others everyday.
Joan, like her parents, walked tall and spread her love, friendship and faith to those about her, enduring the pain of a long battle with cancer, joining her parents on the pedestal of life.
Visitation will be held at Mt. Zion United Methodist Church starting at noon Saturday with the funeral service at Mt. Zion Church with Reverend Rick Swearengin officiating. Interment will follow in the Mt. Zion Cemetery.
See complete obituary Joan Marian Satterfield