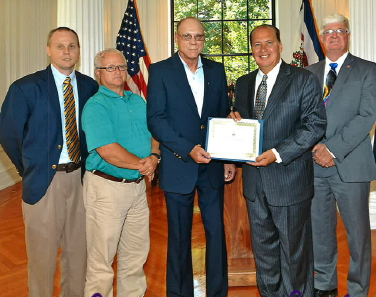 PROJECT AWARD IN CHARLESTON (L to R) Tim Meeks, Mid-Ohio
Valley Regional Council; Scottie "Chip" Westfall, Calhoun
Commission President; Dale Cunningham, Pres. Pleasant Hill
PSD; Gov. Earl Ray Tomblin; Senator Larry Edgell
Major water improvements are coming to parts of Calhoun covered by the Pleasant Hill Public Service District.
The district has been awarded $2,415,000 for water extension and line replacement projects, according to Scottie "Chip" Westfall, Calhoun Commission president.
"The commission is grateful to all the players who have worked on making this water project a reality," said Westfall.
$932,000 of the project is being funded by the Appalachian Regional Commission, the rest funded by USDA and a loan received by the Pleasant Hill PSD , according to PSD president Dale Cunningham.
Calhoun officials attended a grant presentation regarding the funding Monday with Gov. Earl Ray Tomblin.
Cunningham said the projects and improvements are part of a longtime plan to deliver water to the communities, including some relief from water lines that have experienced problems.
The project aims to improve the quality and reliability of the water service in the county. Crews will be installing 28,000 feet of new waterline. The line will replace the current system, located along West Virginia Route 16, between Five Forks and Big Spring, which has been experiencing routing breaks, causing loss of revenue and disrupting service.
In addition to improving the current service, the new line will provide service to 64 households in Leafbank, Upper Back Fork, Klipstine Road and Leading Creek, where residents are currently relying on poor-quality well water.
The project will serve 37 new customers and 150 existing customers for a total of 187 customers assisted.