A 25-year-old Roane man has been arrested on pornography charges.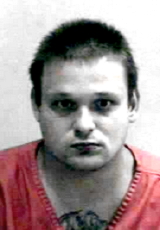 Michael Paul Fisher (left) is in Central Regional Jail with bail set at $75,000. He is charged with manufacturing pornography, filming or photographing a minor related to sex.
Charges were filed, according to a criminal complaint, after nude photos of a juvenile girl were discovered on a cell phone, and the girl reported he had a sex video that he said he was going to put on a pornographic website.
A Roane County sheriff's deputy went to check on the female on Simmons Street and found the girl in bed. She said she had not been out of bed in three days, indicating she was suffering from low sugar.
Police checking the girl's cell phone found nude photos of the girl that she said Fisher had taken against her will, including photos of a sex act with the man, according to the complaint.
After unsuccessfully trying to reach the juvenile's parents, the officer said he called Child Protective Services to take custody of the girl.