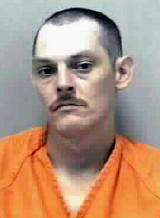 Doy Gene Hannah, Jr., 33, of Chloe, has been given a 30-day sentence in Central Regional Jail on domestic battery and other charges, related to an incident in April or May in Calhoun County.

Authorities arrested Hannah after eluding police for three days in the Mud Fork area after Hannah allegedly assaulted his wife, according to a criminal complaint filed by Chief Deputy Carl Ballengee.

The Calhoun Sheriffs Department, the WV State Police and the Natural Resource Police responded to the area on the domestic dispute call.

A criminal complaint says Hannah was yelling, cursing and threatening his wife with a gun.

Hannah "destroyed the computer...then hit her and grabbed her by the hair and dragged her through the house," says the complaint, as she was trying to leave.

The complaint says Hannah has a prior conviction for the same offenses.

It said Hannah was in possession of several firearms, an apparent violation of a court order.