A conflict between the Calhoun Commission and prosecutor Rocky Holmes was a topic of discussion during the commission's meeting Wednesday.

After receiving an internal memo regarding Holmes' performance from the Calhoun Commission, Holmes has asked the West Virginia State Police to investigate the Calhoun Commission over the county's failure to publish an annual financial statement.

His request was sent to Col. Jay Smithers, head of the agency.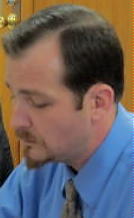 Holmes (shown right) is claiming the issue is "obstruction of justice" and appears that the "county is trying to hide its use of county taxpayer money."
New commission president Kevin Helmick said, "Unfortunately, he [Holmes] has not been responsive as our legal counsel, and our complaints to him have created an adversarial relationship where we must hire an attorney for legal advice, using taxpayer money we don't have."
County Clerk Mike Ritchie, during the meeting, apologized to the commission for his failure to publish the annual statement within the time frames required by WV Code.
The financial statement has been published, after Ritchie sought help from a state auditor and other officials.
"It was simply a new clerk trying to learn a new and difficult task," Ritchie said, after the county losing a clerk with 24 years of experience and two employees in the clerk's office.
"I take full responsibility for the document being late," Ritchie said.
"Holmes is claiming a commissioner paid $11 to file an internal memo to him in the County Clerk's office to make the commission concerns public to politically attack him. This is the most ridiculous thing I've heard. It never happened," said commissioner Bob Weaver.
"While the commission, under code is responsible to see that the county's financial statement is published, beyond the budget we have little control over what elected officials do," said commissioner Chip Westfall.
Holmes experienced problems in Calhoun Circuit Court in December, when he was alleged to have failed to provide discovery in a criminal case against accused bank robber Richard Vance, the crime was committed in September, 2010.
Holmes indicated he had problems with a lack of resources to put such a case together, after which Judge Thomas Evans III responded he was well aware of financial problems in Calhoun, but other prosecutors had managed to get the job done.
Holmes told Judge Evans he had problems getting the documentation to defense attorney John Oshoway, after which Evans asked, "Do we not have FAX machines? ... This is the first time I've heard this argument."
See related story ACCUSED BANK ROBBER'S TRIAL HITS A SNAG - Attorney Asks For Dismissal, 'Egregious Case Over Denial Of Due Process'
In a letter to the commission, Holmes said, "If the commission wants a full time prosecutor, then you can pay for it. Otherwise, you can't have your cake and eat it too."
Calhoun has yet to have a full-time prosecutor, which would cost about another $40,000 annually.