By Bob Weaver March 2011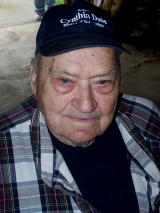 Minnora resident Carl Jarvis has died at age 97.
In a Herald story on Jarvis (left) we described him as a jack-of-all-trades and master of many.
Jarvis' legacy is a life-time of achievement, a brittleness to work, provide and create, even into his aging years.
Carl said, "I still get up every day and face life and the opportunity it offers," making brooms, back scratchers and bird houses.
Carl Jarvis was from a fading generation, a World War II veteran and a man of place who loved Calhoun County, treasuring his family, his roots and the world about him.
Funeral services have been scheduled for 11 a.m. Saturday at the Stump Funeral Home in Arnoldsburg, with visitation Friday evening 6-9 p.m.
See complete obituary Carl Bernard Jarvis
See also CARL JARVIS FACES LIFE WITH A SMILE - Jack-Of-All-Trades, Master Of Many
THE REAL "SUNNY" CAL- Cal Jarvis Smilin' And Talkin', 300 Grandchildren
THE ORMA MOVIE HOUSE - Grandpa Jones, T-Texas Tyler And Bill Carlisle, Customers Came Ridin' Horses And Model Ts