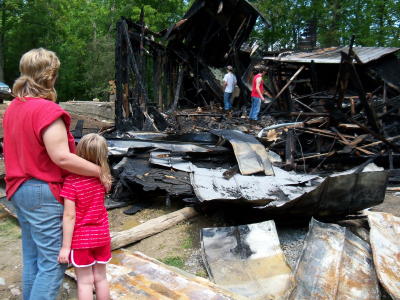 Norma Joy Freshour with daughter watch
two sons sift through Nobe Rd. fire debris
The four-member Norma Joy Freshour family is sifting through the remains of their burned-out home this weekend, attempting to rebuild their lives.
Meanwhile, the WV State Police are reportedly looking for suspects involved in last Thursday's fire that appears to have been intentionally set. The WV Fire Marshal's Office is investigating.
Neighbors reported they saw one or more figures with sheets over their heads at the Freshour residence on Nobe Road, a short distance from State Rt. 16 at Five Forks.
Those sources indicated the suspects entered the house, likely dispersing gasoline and venting the house, not confirmed by authorities.
Two Calhoun men have been arrested for their alleged assault on the residence five days earlier on May 16, firing a shotgun into a truck and the Freshour house and tossing a deactivated grenade in the yard.
State Police have arrested James Forrest Blankenship, 25, and Charles Ray Metz, 32, charging them with wanton endangerment, destruction of property and conspiracy to commit a felony.
They are being held in Central Regional Jail. Bond has been posted at $45,000.
The Freshour family had purchased the property. There was no insurance.
The WV State Police have not released public information regarding the incident.
See related stories:
CALHOUN MAN CHARGED WITH MULTIPLE OFFENSES - Charges Reportedly Related To Nobe Rd. Incidents
METZ ARRESTED FOLLOWING SHOOTING-GRENADE INCIDENT
FRESHOUR HOUSE BURNS UNDER SUSPICIOUS CIRCUMSTANCES - Sheet-Covered Men Spotted, Says Neighbor, Gunshot And Grenade Incident Reported Over Weekend