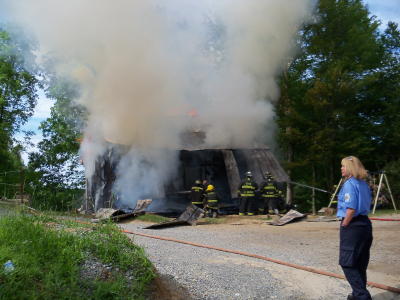 Suspicious Nobe Road fire was short
distance from State Rt. 16 at Five Forks
By Bob Weaver
Authorities are looking into the cause of a fire on Nobe Road Thursday afternoon, following what neighbors said was a Sunday shooting incident and the reported discovery of a grenade thrown into a yard.
The residence of Norma Joy Freshour and her three children was a total loss, with the house fully engulfed when the Grantsville Volunteer Fire Department arrived following a 4:15 p.m. call to 911.
No one was home when the blaze started.
Sources at the fire scene said neighbors spotted individuals with sheets over their heads reportedly near the house when the fire started, these statements yet to be confirmed.
State Fire Marshal Eric Bostick is investigating the cause of the blaze.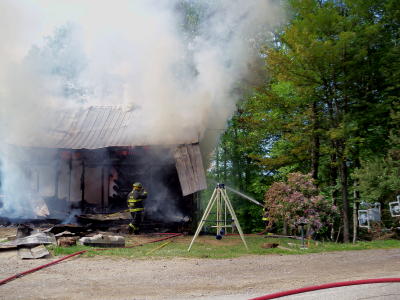 Authorities are investigating cause of fire
Sources at the scene said a grenade-like device was discovered in the Freshour yard, after someone shot into a truck and residence last weekend.
State Police reportedly responded to the Sunday call about 3:30 a.m. and removed the device.
This was the second suspicious fire involving the Freshour family in two years.
In 2008, the family was living on Big Root when they lost everything, indicating at the time they believed someone had set the fire.
No arrests were made in that incident.
In both cases, the family did not have fire insurance.
Grantsville firemen returned to a rekindle at 9 p.m.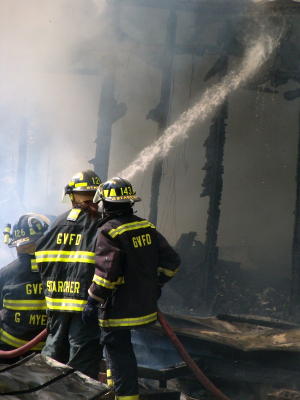 House was fully engulfed when Grantsville firemen arrived
See related story from 2008: BIG ROOT FAMILY LOSES EVERYTHING IN FIRE