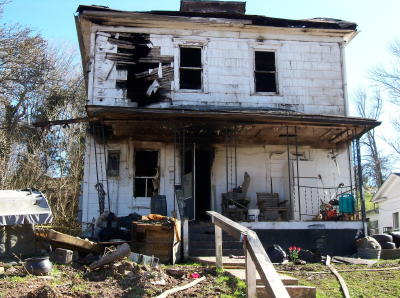 A Spencer man died early Thursday morning when he re-entered his burning house to rescue his dog.
The body of Louis "Bub" Fields, 54, was pulled from the dwelling by firemen wearing breathing apparatus, shortly after arriving on the scene about 3 a.m.
The missing dog was later found safe.
Fields lived in his Circle Avenue home with his girlfriend and two dogs. Both Fields and his girlfriend got out of the house while 911 was being called.
Neighbors told the Herald yesterday afternoon that Fields, who had worked for the City of Spencer, was a "helping servant," circulating around the neighborhood doing odd jobs and "just helping out."
Spencer Fire Chief Rob Miller said little remains of the house, where the fire likely started in the kitchen.
The body has been sent to the WV Medical Examiner's Office.
The WV Fire Marshal is investigating.
Funeral services for Mr. Fields will be held 2 p.m. Sunday, March 21 at the John H. Taylor Funeral Home, Spencer, with the Rev. Jack Roberts officiating. Burial will be in the Mt. Moriah Cemetery, Walton, WV.
See the complete obituary Louis E. "Bub" Fields