By Bob Weaver

Officials say it may take some time to establish the identity of skeletal remains discovered by hunters near Creston earlier this week.

Creston residents, speculating about the discovery, have said the remains are likely a victim of foul play.

Gregg Busch, Wirt County coroner, said he was unable to determine how long the body had been in the wooded, remote area of Groundhog Ridge.

The body was discovered about 25 feet off the rural highway.

"I'm not able to determine if it (the body) was six months, a year or 10 years." Busch said.

The sex of the body has not been determined.

Police are focusing on missing persons of record in the region.

A 26-year-old Parkersburg woman, Kimberly Sue Jones, was last seen on February 2, 2009, at her apartment in Pinewood Village.

Parkersburg Police Det. Decker Moody said the possibility the remains are Jones' is unlikely.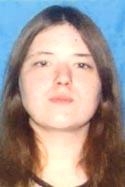 The best known missing person in the region is Christian Dawn Starcher Seabolt.
The 18-year-old Roane County girl left her mother's apartment in Spencer to get a pack of cigarettes on August 31, 2002, and has not been seen since.
Seabolt (pictured left) was an acquaintance of "Tattoo Vince" Golosow, a Tariff, Roane County man, now serving time for killing Michael Judson Reid, 52.
"Tattoo Vince" was connected to a number of individuals who resided in Roane, Wirt and Clay counties.
One of the individuals connected to the "Tattoo Vince" Golosow case, some of which were linked to Murder Mountain in Clay County, once resided in Creston and was arrested on drug charges.
The Hur Herald published several articles related to crimes, incidents and drug trafficking that happened in Roane and Clay county.
Members of the WV State Police spent much of Thursday wrapping up their forensic investigation.
See related story Skeletal Remains Discovered Near Creston