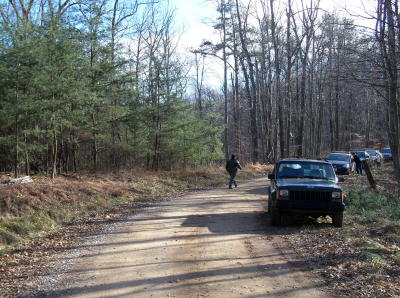 WV State Police and the Wirt Co. Sheriff's Department
spent much of Thursday in a remote area near Creston
doing forensics where human remains discovered
By Bob Weaver
Authorities returned to a remote area of Wirt County yesterday near Creston to continue investigating the discovery of human remains.
Members of the WV State Police spent much of the day doing a forensic investigation.
Hunter's reportedly stumbled on the skeletal remains, whose sex is yet to be identified.
The Wirt County Sheriff's Department and the WV State Police responded to Groundhog Ridge, finding the body about 25 feet off the highway in a thick wooded area.
Gregg Busch, the Wirt County Medical Examiner, sent the remains to the State Medical Examiner's Office for identification.
Authorities did say the body had been at the site for some time.
The best known missing person in the region is Christian Dawn Starcher Seabolt.
The 18-year-old Roane County girl left her mother's apartment in Spencer to get a pack of cigarettes on August 31, 2002, and has not been seen since.
Seabolt was an acquaintance of "Tattoo Vince" Golosow, a Tariff, Roane County man, now serving time for killing Michael Judson Reid, 52.
"Tattoo Vince" was connected to a number of individuals who resided in Roane, Wirt and Clay counties.