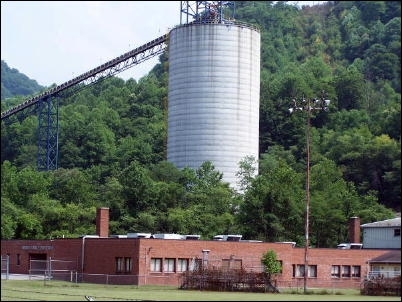 Marsh Fork Elementary (Hur Herald Photo)
By Bob Weaver
With Massey Energy preparing to build a second coal silo a few hundred feet from Marsh Fork Elementary School, the issue has taken several directions.
The president of the Raleigh County school board, Rick Snuffer, called on Massey to contribute to an effort to erect a new $5 million structure, a company spokesman indicated it was unreasonable since the coal producer pays that much monthly in taxes.
Following Massey's statement, Sen. Robert C. Byrd called for Massey to end their "arrogance" and "greed" and help pay for a new Marsh Fork school, acknowledging the hazards to the health of school children.
"Such arrogance suggests a blatant disregard for the impact of their mining practices on our communities, residents and particularly our children," Byrd said.
The school is also located below a multi-billion gallon company slurry pond.
"These are children's lives we are talking about," Byrd said, "This is not the taxpayers' burden to remedy. This is Massey Energy's responsibility to address."
"Let me be clear about one thing — this is not about the coal industry or their hard-working coal miners... "This is about companies that blatantly disregard human life and safety because of greed. That is never acceptable," Byrd continued.
Sen. Jay Rockefeller and Rep. Nick J. Rahal, both D-WV, called on Massey Energy to help fund the relocation of Marsh Fork Elementary.
"I certainly agree with Senator Byrd," Rahal said.
"Massey Energy should take this significant step of helping to replace Marsh Fork Elementary School so that these children no longer have to fear the threat of adverse health effects of nearby coal operations."
In a separate statement, Rockefeller said, "The hazards around Marsh Fork Elementary have been weighing heavily on the minds of parents in the Marsh Fork community..."Protecting our children is our first and most fundamental obligation, and it is right to expect the company to help pay for the solution," Rockefeller said.
On October 13 the Raleigh County BOE voted 3-0 to do a needs assessment for a new school, while Board President Rick Snuffer met with representatives of Massey Energy.
"They did not commit to any specific financial resources or anything. They said that, as we went forward with this, they'd be willing to look at what they could do, whether it be site prep or property acquisition, if it would be a piece of property that Massey owned that we would decide to put the new school on," Snuffer said.
Lorelei Scarbro, a long-time member of Challenge WV, wrote the school board saying Challenge stands in solidarity in support of efforts to reestablish a community school for Marsh Fork children.
"As the mother of four children who attended this school I think the time has come to see to it that the children in my neighborhood have a safe new school," Scarbro said.
Massey has long contended the silos do not affect the health of school children.
See related story Rally Tensions: Second Coal Silo Not For The Sake Of Children