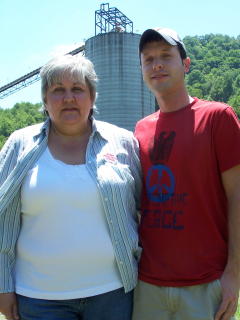 Challenge WV Executive Director Thomas Ramey and Challenge
Fellow Lorelei Scarbro ask "What about the children?"
"Surely this is not for the sake of the children?" asked Challenge WV Executive Director Thomas Ramey, referring to Massey CEO Don Blankenship's political slogan.
A June 23rd rally was held on the Marsh Fork Elementary grounds where a second coal silo is to be built within feet of the community school.
The event has raised tensions in the southern WV coalfields.
Thirty individuals were arrested after the rally when they attempted to deliver a petition to Massey's nearby mine.
Environmental group speakers, including NASA scientist Dr. James Hansen and movie actress Daryl Hannah, were drowned-out by Massey Coal workers and supporters who blew horns, played music, and chanted while a number of speakers took the stage.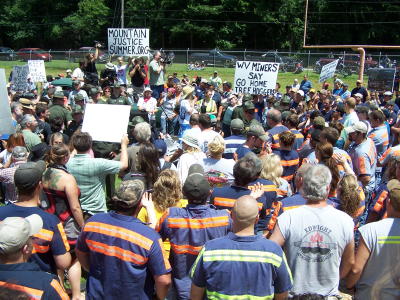 Rally speakers drowned-out by Massey miners and supporters
Miners expressed fear they will lose their jobs if decisions are made to curtail Massey's operation.
While the rally focused on the impact of mountaintop removal, Challenge's Ramey asked "What about the children in this school that are living under the shadow of coal silos and a 2.8 billion gallon sludge impoundment?"
"Most people in West Virginia would consider this bad planning, let alone intolerable," he said.
When Robert Kennedy, Jr. visited Marsh Fork Elementary School in 2007, he said it is an example of crimes against children.
Now, the WV Supreme Court has ruled that Massey can build a second silo next to the school.
It's been a battle between the coal company and concerned citizens, with most of Marsh Fork school's administration and parents adamantly claiming the coal operations have little or no affect on children, many of them have family members working for Massey.
Ramey said "There appears to be threads of corruption linked to this battle and school consolidations in West Virginia," citing deals with coal corporations, including land acquisition and ignoring environmental considerations.
Louise Maynor, former Marsh Fork Elementary principal says another silo is not a bad idea.
"A silo is better than dumping all the coal on the ground," she said.
Maynor says during her time as principal, the close proximity of the mining activity has not been a problem.
"Basically, the school was not any dirtier than any other school I've taught in," she said.
Maynor blamed out-of-state, hippie tree-huggers for upsetting school children, although most of the activism involves community and West Virginia citizens.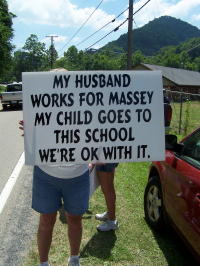 Actress Hannah tells Ramey about her concerns for life on earth
while Massey coal support says there's no problem at Marsh Fork
Efforts to relocate the school have failed, although some school officials have indicated it could be closed and students placed on long bus rides in a consolidation move.
Ed Wiley, former coal miner and grandfather of children attending Marsh Fork, says, "We just plain don't count." Wiley and members of Coal River Mountain Watch have been trying to raise money for a new school.
Despite the acclaimed "billion dollar coalfield," southern West Virginia remains one of America's most impoverished regions, with a lack of basic infrastructure, some of the worst school buildings and poorest test scores.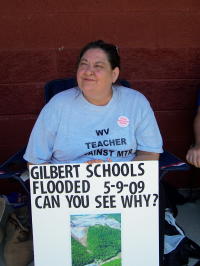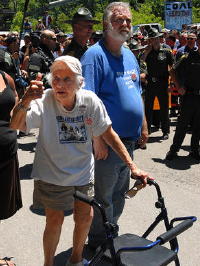 Gilbert school teacher takes position on WV flooding;
Elderly Winnie Fox was among 30 protesters arrested
There are a few thousand coal jobs left, with employment diminished by mountaintop removal and machinery.
Lorelei Scarbro, a Challenge fellow and member of Coal River Mountain Watch, asked "How can anyone support what is happening at Marsh Fork?"
Massey Coal has received thousands of citations and multi-millions in fines for their environmental infractions, most of which have been ignored.
Julia Bonds, award-winning environmentalist and leader of Coal River Mountain Watch, also arrested following the rally, said the coal industry has ignored the impact of the cultural, educational, social, spiritual, and health problems of WV communities.
"When the dust settles, it will be mostly about who gets the money," Ramey concluded.