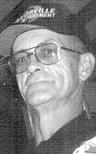 Firefighters from as far away as New York are coming to West Virginia to attend services for two Nicholas County volunteer firefighters killed last Friday fighting a mobile home fire.

Long-time firefighter Johnnie Howard Hammons, 49, of Fenwick, who laid down his life in the line of duty, is the brother of Grantsville resident Gary Hammons, who lives with his wife Debbie on Mill Street.

Gary Hammons said his brother's death is another big loss for his family, after another brother was killed a while back when a tree fell on his vehicle and the death of his father.

"It's been hard times for my mother. I told her she must be a very strong woman," Hammons said.

Also killed in the tragedy was 26-year-old Timothy Nicholas.

Ray Corbitt said he remembered Hammons as someone who cared deeply about his fellow firefighters and their families.

When another firefighter died recently, Hammons would call his family and check up on them weekly.

"You couldn't ask for a better person," Corbitt said.

Hammons had a pacemaker and some back problems, but always showed up and did his duty, firemen said working circles around the younger guys.

He was preceded in death by his father, Erman Edward Hammons, and brother, Robert Gene "Bobby" Hammons.

Survivors include his mother, Joann Hammons of Fenwick; three brothers, Gary E. and wife Debbie Hammons of Grantsville, Larry Hammons of Fenwick, and Ronnie and wife Beliesa Hammons of Lexington, N.C.; sister, Carla and husband Charles Bailey of Richwood; and six nieces and nephews.

Funeral services will be held at 10:30 a.m. Tuesday, February 24, 2009, at the Summersville National Guard Armory, Summersville, with Pastor Jim Meadows officiating. Burial will be at West Virginia Memorial Gardens at Calvin.

Friends may call from 6 to 9 p.m. Monday, February 23, 2009, at the Summersville National Guard Armory, Summersville.