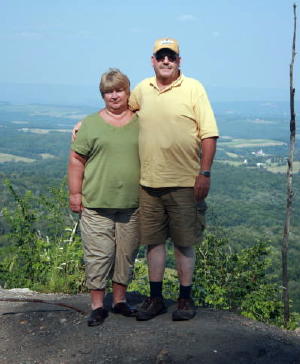 Jim and Nelda Gill
By Nedra Riggin
Jim Gill of Smithville has returned from a journey of hope to Mexico for cancer treatments.
He and his wife, Nelda, spent nearly six weeks in Del Rio, Texas recently so that Jim could take cancer treatments in Mexico five days a week. Their faith in God and this journey has given them new hope.
Around Christmas of 2007 Jim began experiencing some problems swallowing. As it got worse and he lost about 35 pounds he went to his doctor in March and was diagnosed with esophageal cancer. A tumor approximately 16 cm long and 2 cm wide was found in his esophagus and it was cancerous.
This devastating news was hard for the Gills and other friends and family to accept, but Jim listened to his doctors and began taking chemotherapy and radiation.
Many prayers went up in his behalf. He was hospitalized two times to have the chemotherapy administered for ninety-six consecutive hours through IV's. He also was given twenty-five radiation treatments.
The plan was to get these treatments all done before having surgery. He did not have too many side effects from these treatments and was still able to work a little during this time.
He was sent to Columbus in May to meet with the surgeon. The surgeon informed him that he thought he could get the tumor out but warned him that it was a very tough. surgery to undergo.
The esophagus had to be rebuilt by pulling the lining of the stomach up and restructuring the esophagus. Besides being cut down the front it would also require a large incision on his shoulder in order for them to work putting the esophagus back together.
On June 22, Jim, his immediate family and several other family members went to Columbus hoping and praying for n successful surgery. After prayer with his family in the morning of June 23, Jim was taken to surgery which was supposed to take four or five hours.
As the family sat in the waiting room, about one hour and a half later the doctor approached them with bad news. After opening Jim up he saw that the cancer had spread to his liver and he said that he did not proceed with removing the tumor in the esophagus.
He said it was such an extensive surgery and it would not have been fair to Jim to put him through it when the cancer had already spread.
The family was devastated at this news.
Nelda wanted to see Jim as soon as possible, but it took them all day to get him into a room. Of course he was full of questions. He had expected to be in Intensive Care on a respirator following the surgery.
Nelda had to break the news to him when the family got to see him later in the evening. He was released from Columbus two days later to come home and heal from his incision.
After a few days he went back to his oncologist in Parkersburg. The outcome did not look good for Jim. All the doctor could offer him was more chemotherapy which would be about fifteen times stronger than the previous chemotherapy he had taken.
Jim was not wanting to do this. He knew how he had felt before. Would it prolong his life? What quality of life would he have while taking these treatments? They pondered what to do for a few days.
And then within a twenty-four hour period they received phone calls from three friends who had heard of natural cancer treatment in Mexico. This treatment is not approved by FDA and cannot be administered in the United States.
They thought it was worth a shot. They began searching on the internet and found a contact name and phone number. They found out that the clinic takes only about twenty-five patients at a time.
They had to fax his operative report, last blood work and his scan reports to Mexico. The total cost for a year of treatment was $9800 which included all the doctor bills and all the medicine. Their insurance company absorbed some of the cost.
While waiting to hear from Mexico Jim and Nelda began making tentative plans to head south. And just within a couple of days they called and said Jim was accepted for this treatment.
Nelda and Jim was amazed at the financial support they got from churches, family and friends along with the many well wishes and prayers from so many people.
They deeply appreciated it all. One friend loaned them a GPS system for their car. Another loaned them a laptop computer to take with them so they could keep in touch with everyone. They were even loaned a queen sized air mattress for the girls to sleep on when they came to visit.
They knew they would really miss their family and friends but they felt pretty blessed as they headed out on this journey. They knew also that they would miss their only grandchild's second birthday celebration.
They left on Sunday, August 3, after attending church that morning.
The trip to Del Rio takes about 28 hours driving time. They spent two nights in motels on the way and arrived there on Tuesday. On Wednesday they were picked up by the medical van along with other patients and taken to Acura, Mexico to the Saint Joseph Medical Center.
They had to show their drivers license and birth certificates at the border. They did not have to have passports.
On the first day they had a culture shock as they entered into Mexico. The unmarked narrow streets and old buildings with some windows boarded up was quite different than our towns. As they entered the clinic they were very skeptical but after talking with Dr. Reyes they were more optimistic.
Since Nelda is a nurse she was very much aware that some of the procedures she saw being done were not what she had been taught.
Dr. Reyes shared several success stories with them. They took quite a bit of blood from Jim on the first visit. They used this blood to develop a vaccine just for him.
For the first five visits to the clinic Jim had to take detoxification medicine by IV. Then he started daily breathing treatments, hypothermia treatments (similar to our radiation but does not kill good cells), vaccines in his arms 2-3 times per week, liquid medicine daily, and five immunizations directly into his liver.
Later he was given what they referred to as microwave treatments - heating something in the microwave and placing onto a wire onto the affected areas. He had no side effects from these treatments except for some pain following a couple of shots into the liver.
As the treatment progressed they did ultrasounds on his liver quite often. Each one looked a little better. They do not have CTScan machines in Mexico - Only ultrasounds - so they could not check to see how the medicine was actually working on the tumor in his esophagus.
The last ultrasound showed that the three, quarter-sized spots on the liver were nearly gone. Two were not visible and one was only the size of the top of a pen.
In their free time, Jim and Nelda visited the Rio Grande River, the Alamo and a huge lake there. They also learned where all the local restaurants and shopping areas were.
They got very homesick quickly. But during the middle of their stay their two daughters and baby Brylee flew down to spend a few days with them. They had a great reunion and a nice visit.
They hated to see the girls head home but knew they had to stick it out. In a couple of weeks Nelda's brother, Roy and his wife, Rhonda and daughter, Christy, came down to visit.
They met many nice, people as they traveled on the bus and at the clinic. Most everyone was there for cancer treatments but some were there for other medical problems. They especially liked a man and his wife who rode the bus with them. The man asked everyone to pray with him every day before they got off the bus at the clinic. This was strength for them knowing other Christians were praying for them.
Near the end of the fifth week Nelda had decided she was going to fly home and had already purchased her plane ticket. They had spoken to the doctor about them both going home and she had wanted him to stay until the end of September to get an ultrasound done with a new machine they were to get.
Jim decided he could get an ultrasound done when he got home and send the results to the doctor. So they headed home on September 12th.
No one knew they were coming home except for their two daughters. As family and friends were gathered at Jodi's house for Brylee's second birthday party on September 13th, they pulled into the driveway.
Everyone was quite shocked but most happy to see them. Lots of hugs kisses, and tears were on the agenda for a while and then all enjoyed the party.
Jim came home with a three-month supply of liquid medicine that he takes daily. Also he is on a restricted diet which encourages him to eat lots of fruits and vegetables, no sugar, and very little red meat.
During the week of Sept. 29-Oct. 3 Jim will have a CTScan and an ultrasound in Parkersburg to determine how much healing has taken place.
These results will be sent to Mexico and then the doctor will determine when they need to come back for more treatments. They are expecting that they will have to go back in January or February and stay possibly two months or more.
You may call them at 477-3616 or contact them at P.O. Box 53, Smithville, WV 26178.