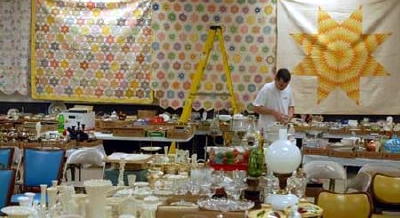 Auctioneer Steve Mullins prepares for the first in a series of auctions to dispose of the estate of Roane County's Dr. A.T. Gordon. On Saturday, auctioneers will sell off the property of Hazeldeane Gordon, one of the doctor's two daughters. Photos by Lawrence Pierce
By Rusty Marks
Staff writer
www.wvgazette.com
Dr. A.T. Gordon was one of Roane County's most renowned citizens. A rural mail carrier and schoolteacher before he went to medical school, Gordon founded City Hospital and Gordon Memorial Hospital, both in Spencer.
When he died in 1976, Gordon left two daughters, and no other heirs. His last surviving daughter, Hazeldeane Gordon, passed away recently, leaving the entire Gordon estate to St. Jude's Children's Hospital.
"This is the first time we've had an estate completely intact," said Doug Groves, an auctioneer with Mountaineer Auction Gallery in Clendenin. "It was like she just walked out of the house and closed the door."
On Saturday, Mountaineer will host the first of four auctions to dispose of the Gordon estate.
In all, the prominent family owned eight houses and offices, a family farm and other land. All will eventually go on the auction block.
"Everything goes to St. Jude's," Groves said.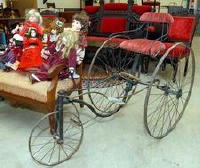 Among Hazeldeane Gordon's possessions were an antique velocipede, child's settee and handmade dolls.
The contents of Hazeldeane Gordon's home in Spencer will be the first up for auction. Contents include 11 quilts, handmade by Gordon; a Victrola; a colonial buffet mirror flanked by tapestry panels; a parlor organ; piano; old radios; Victorian-era furniture and photographs and memorabilia from Dr. Gordon's career.
The collection also contains about $50,000 in jewelry and one of the largest collections of Lenox china Groves has ever seen.
"Everything they had was quality," Groves said.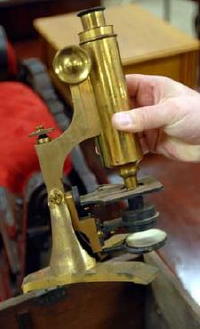 A solid brass microscope is among hundreds of items in the Gordon estate.
Before it's all over, Groves expects to raise about $500,000. The Gordon estate is so huge auctioneers will have to take it in stages.
"We're taking it a house at a time," Groves said. Hazeldeane Gordon's home will be first on the auction block, followed by sister Virginia Douglass'.
Contents of the Douglass home are expected to go to auction Sept. 29, along with Dr. Gordon's extensive coin collection. Another auction is scheduled for Oct. 27. Groves said a final auction has yet to be scheduled.
Groves, who conducts about 40 auctions a year, said the Gordon estate is one of the grandest he has ever seen. He's billing the auction as the sale of a lifetime.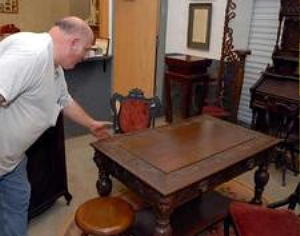 Auctioneer Doug Groves shows off an ornately carved, double-sided partners desk. The Gordon estate is one of the largest Groves has ever seen, and will take four auctions to sell off.
Items up for auction can be seen from 5 to 7 p.m. Friday at the Mountaineer Auction Gallery, 50 Spencer Road. The auction house is 1.7 miles from the Clendenin exit of Interstate 79.
Photographs and other information can be found at www.mountaineerauctions.com.
To contact staff writer Rusty Marks, use e-mail or call 348-1215.