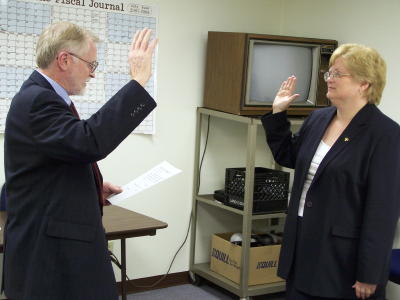 Calhoun's new superintendent Jane Lynch was
sworn to the position by Judge Larry Whited
Longtime educator Jane Lynch was sworn to duty as Calhoun's new school superintendent at last night's school board meeting. Lynch replaces Ron Blankenship, who retired at the end of June.
Donnie Pitts reported on a roof project being done at Arnoldsburg School.
Pitts discussed recent lightning. strikes at Arnoldsburg, where a strike caused a hole in the roof, creating a small fire. Lightning has also struck the area around Calhoun Middle-High School, causing problems at the board office, school, highway department and 911.
The strike has caused problems with the board office air conditioning and phone system.
Tim Brown resigned as Instruction Technology Coordinator for CMHS.
Kevin Boak was hired as Itinerant Custodian III, Ada Overbaugh was hired as band/athletic camp cook, and Brenda Morgan was hired as summer cook substitute.
Job postings included Spencer Education Supervisor and Director of Finance.
Board member Mike Wilson discussed problems with vending machine closures.
Board member Cynthia Dale discussed time frames for the Safe School's Committee.
Board member Steve Whited said he was preparing five retired football jerseys, placing them in frames, looking for an appropriate place to display them.
Attending, Lee Evans, president, and board members Dale, Starcher, Whited and Wilson.
The next meeting is scheduled for July 24th.