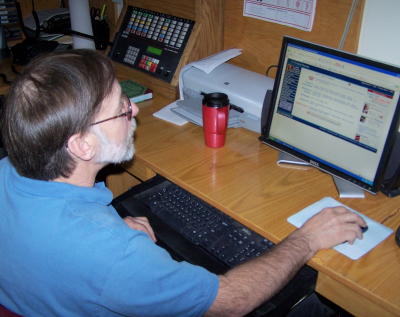 E-911 Director Gary Buchanan working
on county-wide addressing and mapping
By Gary Buchanan
Calhoun E-911 Director
Several years ago, there was a brush fire near my home. I told my mother-in-law who was visiting at the time to call the fire department while my oldest daughter and I went to fight the fire.
Many neighbors and others who were just passing by joined the fight. After approximately an hour, we were cut, bruised, burned, sweaty, dirty, coughing and exhausted, but the fire was under control.
It was about this time that firemen with their equipment arrived from Wirt/Elizabeth Volunteer Fire Department. They immediately began relieving us and doing what they called "mopping up."
This fire took place on Little Creek Road near the Wirt/Calhoun county line, but the firemen from Grantsville only got as close as Joker.
I have no idea what sort of directions that my mother-in law gave, but it was very clear to me that there was a serious need for "city-type" addresses in Calhoun County.
Over the months ahead, I began calling County Commissioners as well as Addressing and Mapping Coordinators to try to determine the status of work in the county.
I attended a statewide Addressing and Mapping meeting in Charleston in 2003 and was told that the work was going to be performed by "professionals" and that Verizon had agreed (in a settlement with the Public Service Commission) to provide $15 million dollars for the work.
All addressing for the state was to be completed by the spring of 2007.
Well, here we are in the spring of 2007 and NO county in the state is completely finished with 911 addressing.
The company that the state hired (MicroData from Vermont) was fired in the summer of 2006.
The work was then turned over to the counties to finish.
This is where I come in.
I have been hired as the county's first full time addressing and mapping coordinator and I have begun the work in Big Springs.
Assigning "city-type" addresses to all homes in the county, matching them to their present rural route or post office box, confirming the phone numbers for the residences and entering this information (one zip code at a time) into the state system is going to take time.
I will need the cooperation of several county offices, all post offices and their mail carriers, all fire departments, law enforcement offices, and EMS.
But most importantly, I will need the help and cooperation of the citizens of the county.
From time to time, I will be providing updated information as to the progress of the work. If anyone has questions they can contact me at gwb@citlink.net or phone 354-0911.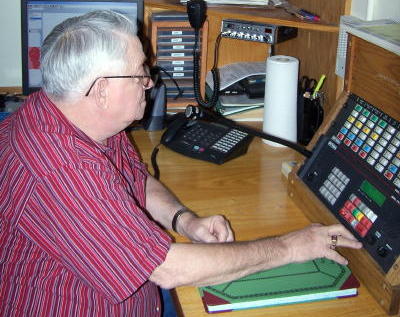 E-911 head dispatcher Richard "Burl" Postalwait
operating radio system at new Mt. Zion facility