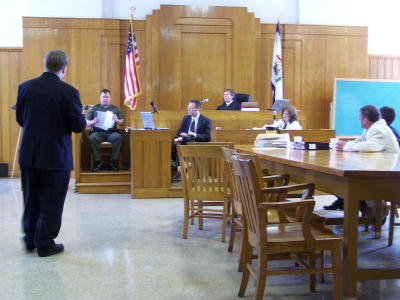 Prosecutor Minney questions officer Hunt (left) as Minigh trail begins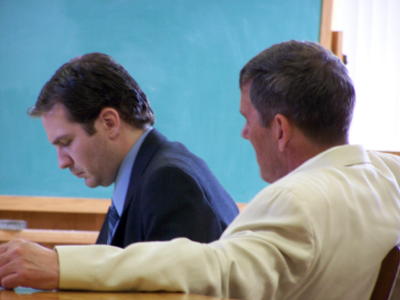 Danny Minigh (right) consults with attorney Rocky Holmes
By Bob Weaver
A meth trial for Danny Minigh, 56, formerly of Webster County, got underway yesterday in Grantsville before Judge Thomas Evans III. Calhoun Prosecuting Attorney Matt Minney began presenting evidence in the case shortly afternoon.
The jury trial is continuing today.
The trial had been postponed several times, because Minigh was undergoing medical treatment, there were some jurisdictional issues and Minigh changed his mind about a plea agreement.
Minigh has been indicted on three felony counts, operating a clandestine meth lab, manufacturing a controlled substance and conspiracy.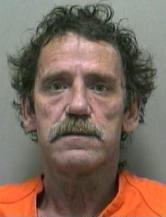 In July, 2004, State Police in Grantsville confiscated a clandestine drug lab used in the manufacturing of methamphetamine at the Michael "Bub" Jones residence on Hog Knob Hill. Jones pled guilty to conspiracy.
Sr. Trooper Jeff Hunt took the witness stand yesterday, testifying that a search warrant was obtained for the Jones house, following a traffic stop at Burnsville, where several individuals, including Minigh, appeared to be linked to the operation of a meth lab.
Braxton State Police stopped the vehicle, observing ingredients used in meth production, namely acetone, decongestants, Red Devil lye, gas line anti-freeze and other items.
One of the occupants of the van reportedly disclosed the location of a meth lab in Calhoun County.
The lab was reportedly concealed in a plastic tote underneath the Jones house, three miles east of Grantsville along State Route 5.
Jones reportedly told police that Minigh had gone to several different stores purchasing ingredients for meth production. He said Minigh had come to his house asking to store the lab on his property.
State Police said the van contained receipts from ten different stores.
Charges against Minigh in Braxton County have been dropped.
Meth Lab Suspect Tried To Slit Throat
Jones Pleads In Hog Knob Meth Case
Braxton Dismisses Charges Against Minigh