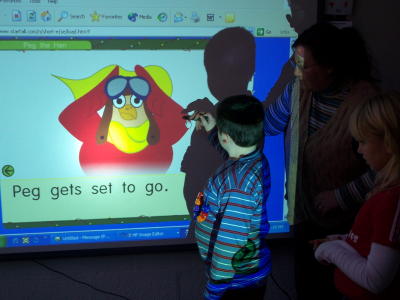 An Arnoldsburg student works on interactive whiteboard
By Bob Weaver
Calhoun teachers and schools may be one-up in the state with the latest technology, says Calhoun Superintendent of Schools Ron Blankenship, with tools that enhance teaching and learning.
Each teacher (classroom) has received a laptop computer ($1325), interactive white board ($1800), video projector ($879) and laser printer ($395), about $4,500 in new equipment.
Blankenship says about $400,000 in technology hardware is being installed in the county's three schools.
Perhaps the most exciting innovation in each classroom is an interactive whiteboard mounted on the wall with a projector mounted on the ceiling.
The interactive whiteboard becomes a giant computer screen. It is interactive with students and teachers who can make annotations on the computer image and highlight content. The new boards roll-into-one a number of teaching technologies.
Training to use this equipment started with a three day county Technology Academy last August before school started.
Because the training is embedded and sustained, teachers utilize ISE days, planning periods, before and after school time to continue learning the new technology.
All school buildings are now equipped for wireless technology.
Video conferencing equipment has been installed in all schools and the central office from Frontier Telephone, moving toward utilizing Distance Learning technology.
Technology Integration Specialists Vickie Baker and Bonnie Bever Sands work in the county schools, funded with an Enhancing Education Through Technology grant.
Blankenship said funding sources include Basic Skills, Erate, Frontier Telephone, Gear Up, Microsoft, Special Education, SUCCESS, Title I, Title VI, Vocational and other local resources.
"We are in the process of applying for grant continuation for the next school year," concluded Blankenship.