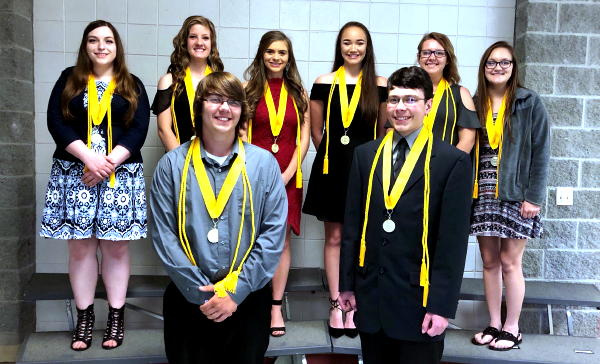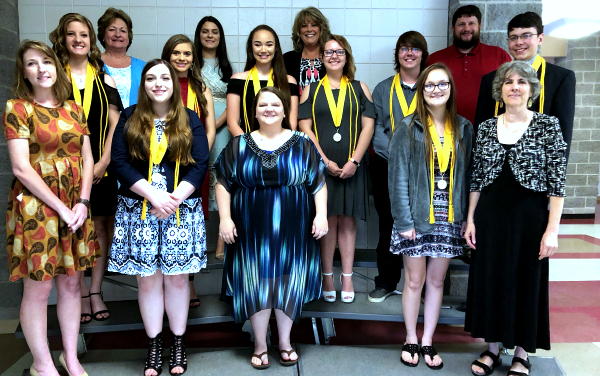 The 19th Annual High Honor Graduates Banquet was held at Calhoun County Middle High School on Tuesday, May 15th. This event is held each year to honor those seniors who have a cumulative GPA of 3.6 or higher, and to acknowledge very important people in their academic careers, their family and honor teachers.
This year's High Honor Graduates are: Roby Lee Farmer, Jr., Mercedes Keyanna Ferrell, Kinley Regan Hosey, Kaylee Marie Jarvis, Caroline Elizabeth McCumbers, Selina May Rush, Robert Donald Twist IV, Carissa Leann Yoak, Hayes Franklin Vineyard.
This year's Honor Teachers are: Mrs. Tambree Yoak, Mrs. Jessica Cook, Senora Norma Myers, Ms. Brandi Sampson, Ms. Emily Ramezan, Mr. Jeremy Johnson, Mrs. Kimberly Batten
Principal Anita Stephenson was the master of ceremonies for the evening, and Alicia Swearingen, a 1999 high honor graduate, was the guest speaker.
Guests were treated to a delicious dinner prepared by the Mt. Zion Church and served by current CMHS National Honor Society members.
A PowerPoint presentation showcased the High Honor Graduates' achievement during high school and announced their futures plans.
Cords and medallions, which will be worn at graduation, were presented by Superintendent Kelli Whytsell, along with certificates for both the students and Honor Teachers.
Recognizing students who have excelled academically is of paramount importance at CMHS. The Annual High Honor Banquet is an important part of that commitment. Congratulations to this year's High Honor Graduates and the Honor Teachers who encouraged and inspired them.